Two Year MVP Signs with Seawolves
Author: J. Mills
Posted on Jul 7, 2020
Category: Varsity Sports , ACAA , Volleyball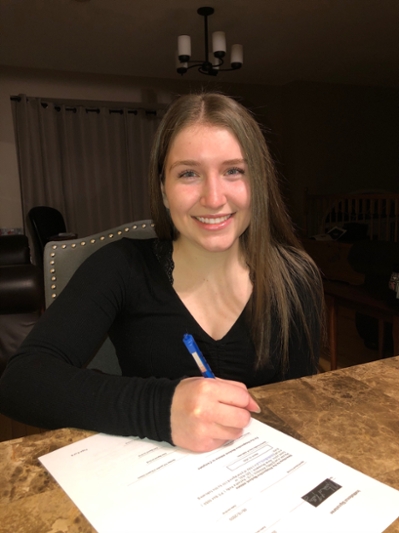 ---
Originally from Nerepis, New Brunswick, Sam Palmer has definitely made a name for herself at Harbour View High School.
Sam is not just a high honors student; she also has an impressive volleyball resume. She started her volleyball career at the U14 level, where she competed at Atlantic's in Halifax and placed 5th in tier 1. She established her current position as a libero/defensive specialist four years ago and has been training and improving ever since. Sam was co-captain on her high school volleyball team (Harbour View High School), where she also received MVP two years in a row. During the U15 Wolfpack season, she was named the Best All Around Player and just this past year, Sam was apart of the U18 Timberwolves team, who placed 5th in tier 1 at provincials. Not only does she play indoor volleyball, but Sam also plays competitive beach volleyball and her team was awarded 2nd place at the 2019 East Coast Games.
"Volleyball has always been an important part of my life and has allowed me to grow as an athlete and as a person" says Sam.
She is very passionate about the sport as it has taught her how important teamwork and trust can be in order to achieve success. Her goal as an athlete is to continue pushing herself and to work hard to become a better athlete for herself and for her team.
Sam is currently employed at a pharmacy and she is planning on pursuing that type of work in the future. She loves that she will be able to study at UNB Saint John because it offers a great Science program where she will be able to major in Biology, while continuing to play high-level volleyball at a university close to home.
Her role models are her parents as they have always been hard workers. Sam stated that her parents have taught her the importance of hard work and to always strive to be the best, both on and off the court. Her parents have offered their guidance and positive atmospheres which helped Sam become the student and athlete she is today. 
Sam is excited to learn more and to continue improving her volleyball skills!
Welcome to the Seawolves family Sam!