Recruit from the Rock: O'Brien signs with Seawolves
Author: J. Mills
Posted on Jul 16, 2020
Category: Basketball , Varsity Sports , ACAA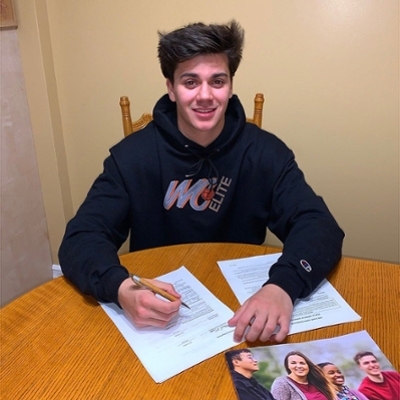 ---
Graduating from Corner Brook Reginal High School in Newfoundland, Daniel O'Brien has made the decision to study and play ball with the UNB Saint John Seawolves.
Daniel has been an active member of the basketball community in his home city, Corner Brook. He has played 4A basketball throughout his high school career and was also selected for the U17 NL Provincial Basketball team. As a result of Daniel's hard work, he was offered a spot-on Team All-Star and was chosen to participate in the Elevate All-Star game. He was named MVP, Player of the Game and was awarded Honours of Distinction upon graduating high school.
"Basketball keeps me grounded and focused" says Daniel. He uses basketball to keep himself motivated both, on and off the court. The sport has taught him many life lessons that will help him face any challenges moving forward in his life.
Daniel is very excited to move to New Brunswick and start his university career. He has stated that he has heard many great things about the athletic and academic programs that are offered at UNB Saint John. Daniel will be taking the Bachelor of Science program as he wishes to pursue physiotherapy in the future.
"I watched Daniel and Team NL play at U17 Nationals last summer and liked what I saw. I believe he can be a big contributor for us" says Coach Peter Vincent. For his rookie season, Daniel's goal is to prove himself to his coaches and teammates. He wants to help add depth to the roster and work hard to improve his skills.
When it comes to basketball, Daniel has always looked up to his local basketball players, Daniel Foo and Nathan Barker. Their dedication to the sport and their commitment to working hard inspires Daniel to become the best basketball player he can be.