NFLD to NB: Brown Signs with Seawolves
Author: J. Mills
Posted on Jul 10, 2020
Category: Basketball , ACAA , Varsity Sports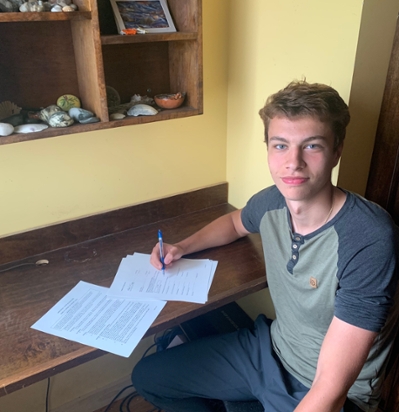 ---
All the way from St John's, Newfoundland, Eli Brown, will be joining our very own Seawolves Men's Basketball team.
By looking at Eli's athletic resume, it is easy to tell that he has been involved with sports ever since he was young. He grew up playing soccer, basketball, baseball, and track, but when he got to middle school, he decided basketball and track were his main sports. Eli has been honoured with many awards over the years, including, the MVP award, the Provincial Sportsmanship award, the Defensive Player award, and academic honours upon graduating high school. He was given the opportunity to play for U14 and U16 Team Newfoundland and was granted a spot on his high school basketball team, where his team was named back-to-back 4A Champions.
"I think I fell in love with the hard work that comes with the game" says Eli. He cannot remember a time in his life that he was not obsessed with basketball. He would either be watching the NBA on the television or going to the park to shoot some hoops. Basketball has always been a part of his life. To him, basketball serves as a reminder to always work hard and to be humble.
Coach Peter Vincent believes Eli will add even more depth to the team's developing backcourt and can push the other guards with his ball handling and shooting skills. "At 6'2" he has the size and the athleticism to help him be a success" says Coach Vincent.
When Eli was looking into different universities, UNB Saint John really caught his eye. He fell in love with the science program as he wants to either go to medical school or become a physiotherapist. Coach Peter Vincent also played a huge role on Eli making his decision as every time the two spoke virtually, Eli felt very welcomed. His goals for this upcoming season are to have an immediate positive impact on the team and to be a contributing member to the team. Eli hopes to bring another level of hard work and competitiveness to the program.
Eli said that his biggest role model is without a doubt his mother. He has looked up to her as she is caring, selfless and driven. She has always presented such a positive presence in his life and he is excited to make her proud at UNB Saint John.                                                                                    
Welcome to the Seawolves family Eli!