Appreciating the Beauty of the Game: New Coach for Women's Volleyball
Author: J. Mills
Posted on Jul 15, 2020
Category: ACAA , Varsity Sports , Volleyball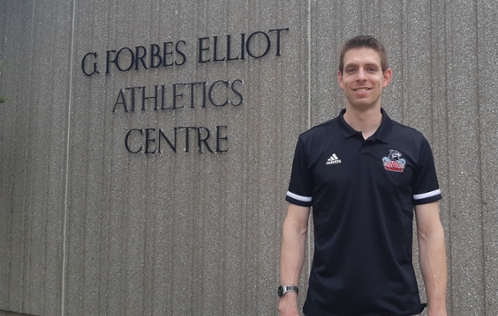 ---
UNB Saint John Athletics welcomes Colin Chambers as the new head coach of the Seawolves women's volleyball team. He sees it as a great opportunity to continue his coaching career and face some new challenges.
Colin spent the past several years coaching at the high school and club volleyball levels in Thunder Bay, Ontario and made his way back to Saint John. These experiences in Ontario will serve him well with the Seawolves.
Colin's coaching focuses on the basics, building foundational skills that allow the athletes to appreciate the beauty of the game, improve as players and live an active lifestyle. He is excited for the opportunity to pass on his passion for volleyball and build on the strengths and passion each player brings to the team. He wants to challenge them to reach new heights in athletics, academics, leadership, and teamwork.
"I hope to create a culture where the athletes hold each other to a high standard but hold themselves to an even higher one." Colin believes a team-first mentality inspires everyone to work harder, improve faster, and have more fun along the way. He thinks this type of mindset will help lead the athletes to become more successful on and off the court.
Colin's volleyball career started in grade 10. He worked hard to improve his skills as the passion for volleyball grew during his high school career. He attended UNBSJ and decided to try out for the Seawolves volleyball team as a walk-on. He made the team as the last guy on the bench only because he worked hard and had a good attitude. He is grateful for the coaches who provided him with the tools and the motivation to improve. He was able to earn a starting spot midway through his second year which he held through to the end of his university sports career. One big advantage is that he knows what it takes to work from the bottom of the lineup to the top. He did it and will be able to relate to players who will have to do the same in the future.
Volleyball was a way for Colin to get some relief from his biology textbook. He was a serious student with high marks (a CCAA national scholar). When not on the court, he was studying to complete his Bachelor of Health Sciences with a specialty in Nuclear Medicine Technology through UNB Saint John in partnership with NBCC. Colin has worked in the field of diagnostic imaging for eleven years, during which he has completed courses focusing on CT and PET/CT. He is a strong proponent and role model for academic excellence so it only stands to reason that he will expect players to do their best academically.  
The academic side was always a priority for Colin, but volleyball created a well-balanced, satisfying university experience. He wants the team to experience the same thing.
After university, Colin lived in Thunder Bay, Ontario where he continued playing in competitive men's and co-ed indoor and beach volleyball leagues. He still plays in competitive and recreational men's and co-ed tournaments whenever possible to keep his skills sharp. Playing also helps him keep in touch from a player's point of view and makes him a better coach.
"The tremendous impact that so many coaches had on me throughout my high school and university experiences inspired me to attempt to pay them back through passing their volleyball and life lessons on to future generations by becoming a coach myself."
Colin will certainly be an asset to the Seawolves family! Welcome aboard Coach Colin, we are thrilled to have you!