Three-time Basketball Champ Signs with Seawolves
Author: J. Mills
Posted on Jun 30, 2020
Category: Varsity Sports , ACAA , Basketball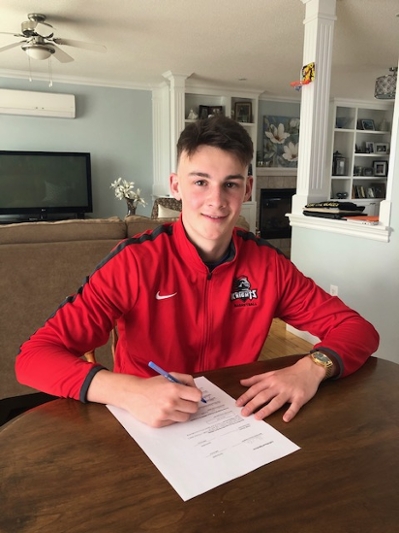 ---
From Middle Sackville, Nova Scotia, Jake McNeil is excited to continue his basketball career with our very own UNB Saint John's Men's Basketball team.
Since middle school, Jake has been on the court doing his favourite thing, playing ball. He won his first silver medal in middle school and his love for basketball grew stronger. Jake recently graduated from Millwood High School, where he was a crucial member of the basketball team. He was named back-to-back captain for his high school team, he was awarded the Coach's Award and he was presented with the Kyle MacKay Memorial Bursary Award. Jake helped his high school team win their third championship, while being a member of the Fall River Selects Basketball team and the Nova Scotia Boys Basketball team.
He has always been very invested in basketball as it has taught him teamwork, patience, and perseverance. Jake is grateful for basketball as it has taken him all over the country and has helped him grow into the man he is today. He is always trying to improve because his father, who is his biggest role model, has always taught him to work hard, both on and off the court.
"There are a lot of things I love about basketball but what I love most about basketball is the competitiveness, the excitement and the team aspect of the game" says Jake. Basketball has shown him the impact having a good work ethic has on his life and the importance of being disciplined.
Jake's former high school coaches reached out to Coach Peter Vincent about his desire to play university basketball. Coach Vincent saw videos of Jake playing and he could tell he has the skill and the work ethic to be a contributing member to the Men's Basketball team. "I believe Jake can provide vision and control to our team and help us further grow our backcourt" says Coach Vincent.
His goals for the season are to make an impact on the team and to be a good teammate. He is enrolled in the Bachelor of Arts Program and he is eager to get started at UNB Saint John. Jake can not wait to see where this amazing opportunity will take him, both as a student and an athlete.
Welcome to the Seawolves family Jake!