Provincial Champ Commits to Seawolves Volleyball
Author: J. Mills
Posted on Jun 9, 2020
Category: Volleyball , Varsity Sports , ACAA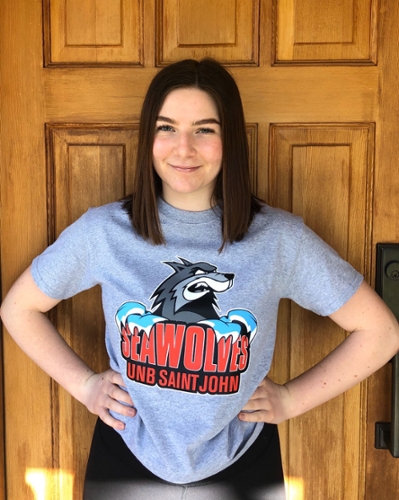 ---
Moving to the other side of a country can be scary, but this young volleyball athlete knew exactly what she wanted, and she went for it. Originally from Victoria, British Columbia, Talia Hill was named most outstanding libero in 2018 at the British Columbia High School AAAA girls Provincials. The following year, she and her team, Iron Maidens, played in the 2019 Provincials, where they secured the title of Provincial Champions.
"Volleyball is the thing I am most passionate about; I am never not happy when I am playing" says Talia.
She is incredibly eager to learn, and she is motivated to continue improving her volleyball skills. Talia's ultimate goal is to become the best volleyball player she can be. She is excited to play alongside strong competitive women, while forming memories and friendships along the way.
Talia has stated that her mother is her biggest role model as she is a strong and independent woman. She has learned many things from her mother, including to always striving to be the best person you can be and to work hard at everything you do. Her mother has been her biggest support system with regard to encouragement and motivation through athletics, school and any problems that she has faced. Talia knows that her mother is in her corner every step of the way.
Talia has always wanted to study on the East Coast, and when she gathered more information regarding UNB Saint John, she knew it was the perfect school for her. Talia will be taking General Sciences starting in the fall and she wishes to pursue a career in athletic therapy in the near future. She is very excited to be a member of the Seawolves family and we are thrilled to have her here!
Welcome to the Seawolves family Talia!