ESA Athlete of the Year Joins Seawolves
Author: J. Mills
Posted on Jun 11, 2020
Category: Varsity Sports , ACAA , Basketball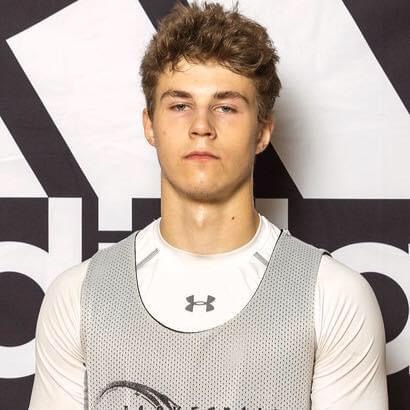 ---
A two-time NBIAA All-Star, a two-time Team MVP and the recipient of Athlete of the Month Award are just a few honors Keeghan Thier has been awarded throughout his basketball career. He is heavily involved with basketball and the sport has helped shape him into the athlete he is today.
Keeghan graduated from Ecole Saint-Anne in Fredericton, New Brunswick. When he was still in grade eight he was offered a position on the high school basketball team, he eagerly accepted. While attending high school, he was able to maintain a high-grade point average, he received the Dynamitus Award, the Best Buddy Program Award and was the selected participant to represent ESA at We Day. Due to his hard work and dedication to the sport, he was invited to attend Adidas Top 40 Senior Camp.
Throughout the season, Peter Vincent, the Seawolves men's basketball coach, was receiving email summaries distributed by the NBIAA regarding Keeghan. The comments about Keeghan really sparked Peter's interest and he wanted to see Keeghan play in person. Peter was able to see him play at the NBCCA All-Star Game where he noticed that Keeghan's athleticism and energy stood out. He was invited to scrimmage with the Varsity basketball team at UNB Saint John and that is when Peter realized he would be an all-around threat on both ends of the floor. "I see Keeghan having a big impact on our program, both on and off the floor" says Peter. Coach Vincent knew Keeghan would make a great asset to the team.
"Basketball is my ultimate stress reliever" Keeghan says. The sport has helped him become a better person both on and off the court. He enjoys playing basketball as he loves being surrounded by great teammates and competitors. Keeghan's athletic goal for this coming season is to be a positive contributor to the team. He believes if each player works and competes hard, it raises the bar for the entire team.
Keeghan felt like home when visiting UNB Saint John and knew that the school would offer him both academic and athletic opportunities. He will be starting his Arts Degree in the Fall, which will help pave his way into achieving his career goal as a teacher.
One of Keeghan's former teammates has been his role model. His former teammate is a great player and his skills have developed tremendously. "He was not the tallest person on the team, but he had heart over height" Keeghan said. The former teammate was able to overcome all obstacles that came his way and was named AA Player of the Year in his senior year in high school. Keeghan said he was very proud when he found out that his former teammate made it on a university basketball team. Keeghan was inspired to continue working hard and to develop his basketball skills further.
Welcome to the Seawolves family Keeghan!