West to East: Robson commits to Seawolves Volleyball
Author: B. Watson
Posted on Aug 7, 2019
Category: Varsity Sports , ACAA , Volleyball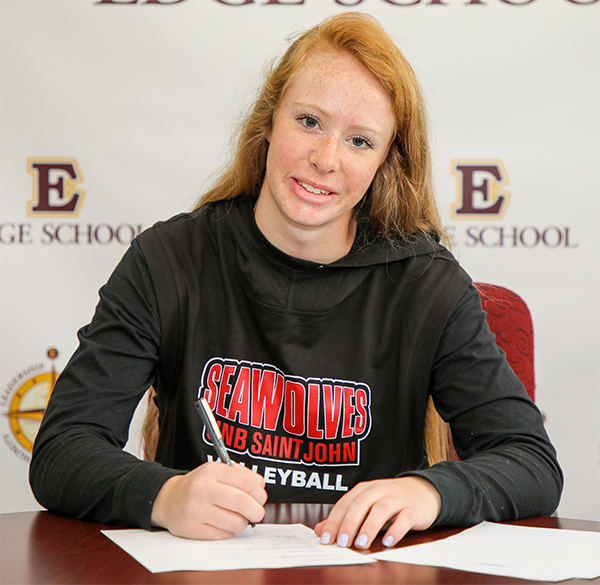 You must give thanks for the small things in life, for instance the app Athleta. It allows coaches to contact free agents. Without it, former coach of the Women's Seawolves volleyball team, Lauren Hale-Miller, would never have met Mattye Robson.
Hailing from Calgary, Alberta, Mattye has an impressive volleyball resume. She has received a u18 national silver medal, an MVP nomination at her former high school (Edge School for Athletics) and 3 Calgary Independent School Athletic Association All Star nods. After connecting with Lauren through Athleta, she came down to practice with the squad and found the Seawolves to be a great fit for the next chapter in her career!
Mattye believes she will add determination and encouragement to the team, which she believes is on a crash course for CCAA victory.
"Volleyball to me means creating bonds and a sense of community while pushing myself and those around me to be better versions of themselves" says Mattye. Her goals for the upcoming season are to become a stronger middle and to speed up her attack in order to become a more effective hitter.
She starts her Bachelor or Business in the fall and claims to have chosen UNBSJ for its sense of community as well as the beauty of Saint John. Her role model is her father, who taught her to display a calm exterior regardless of your interior dilemmas. There is no doubt that she has inherited his work ethic, which will surely lead her to success here with the Seawolves. 
Lauren saw Mattye's eagerness to learn and believes she will add strong offence to the squad. As new coach Carolyn Welden steps into position, she can't be anything but excited for the season ahead with players like Mattye on the roster.
Welcome to the Seawolves family Mattye!