Squad of Hampton locals sticking together
Author: B. Watson
Posted on Aug 1, 2019
Category: ACAA , Soccer , Varsity Sports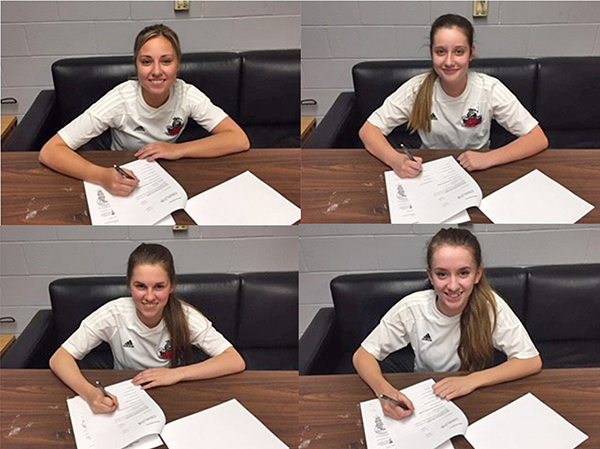 Top Left: Emily Lodge, Top Right: Hannah Humphrey, Bottom Left: Nicole Mersereau, Bottom Right: Sophie Williams
The end of high school usually separates athletes who have played side by side for as long as either can care to remember. Therefore, it is quite surprising and amazing to see a group of teammates continue their careers into their collegiate years together. That is exactly what we have this coming season at UNB Saint John, as Nicole Mersereau, Sophie Williams, Hannah Humphrey and Emily Lodge will be joining us from Hampton High School.
Emily Lodge is a high honors student deciding between a science or business degree. She has been named Academic Athlete of the year twice at Hampton high, as well as best defender multiple years in soccer. She loves the fitness and companionship of soccer and has longed to play for the Seawolves after being a long-time fan on the sidelines. Her biggest role model is Greta Thunberg because "she is doing what everyone aspires to do but lack the effort or determination to make it happen". She hopes to emulate this work ethic this upcoming season as she aspires for the squad to reach nationals, a sentiment surely shared by all! Coach Dave Vicente speaks to her tenacity on either side of the ball and believes she will bring depth and toughness to the team.
Hannah Humphrey is continuing her career after serving as captain in grades 11 and 12. She has heard great things about UNB Saint John, and after playing with the team in the winter months was convinced this is the institution for her. Playing since she was 3 years old, she uses soccer as a stress reliever and is forever grateful for the second family it has gifted her. This honors student's role model is her mother, a hardworking woman of multiple occupations who has always been encouraging and shown her what love is. This upcoming season, she wants to build her skills. Coach Vicente see's her composure with the ball under pressure and knows she will push everyone to get better and be gritty!
Sophie Williams also started soccer at age 3, and it has given her lifelong friends and brilliant coaches. The game just makes her feel so happy and has allowed her to practice leadership when she has stepped into the role of captain several times for Hampton soccer club. She also played indoor with the Seawolves last winter and was drawn to UNB by the need to stay home close to family and friends. She wants to play as much as possible this upcoming season and more knowledge of soccer. Her role model is her father, who taught her to always put in the effort, but to keep a smile on your face, and his encouragement has always meant the world to her. Coach
Vicente is pleased to comment she is relaxed on the ball, and that she can improve attitude and commitment on the team.
Nicole Mersereau has been female athlete of the year for all 4 years at Hampton high school. She attests that soccer is always relaxing for her, as it drains away the worries of regular life. She wishes to add character and voice to the team as she begins her Bachelor of Arts in the fall and looks forward to getting close to her teammates. She wants to learn more about her position and be more of a team player. Her role model is her father, who has coached and mentored her from a young age. He taught her to never give up and fight for every opportunity, lessons communicable to everyday life. Coach Vicente see's how high her soccer IQ is, and is excited for her to bring a winning mentality to the team that he hopes will rub off on the rest of the roster.
We are truly grateful and lucky here at UNB Saint John to have such a great group of girls continue their academic and athletic careers right through our doors.
Nicole, Sophie, Hannah and Emily, welcome to the Seawolves Family!