Seawolves Alumni to Host Fundraising Social
Author: B. Watson & N. Kelly
Posted on Aug 1, 2019
Category: Varsity Sports , Alumni , Basketball , Volleyball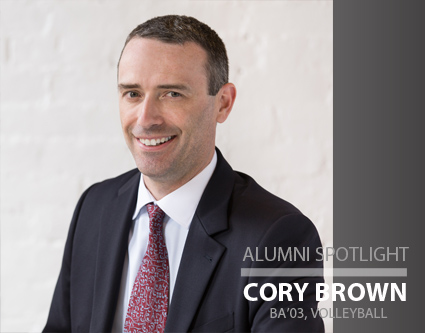 SAINT JOHN- Anyone who has ever lived the double life of a student and varsity athlete understands the delicate art of balancing studying, training, volunteering and working while finding time for family, significant others and friends.  It can be a struggle, but the results yielded are well worthwhile. Not many know this more than Manager of UNB Saint John Residence Life and Conference Services, Cory Brown (BA'03).  As a former student-athlete and UNB alumnus, Cory appreciates the dedication and commitment that this special group brings to the table.  "Student-athletes make great Residence Assistants because they have fine-tuned their leadership skills, are excellent at prioritizing tasks, managing time and are confident in their abilities," says Cory.
Cory and his wife, Alexis Alty-Brown (BBA '01), also a former Seawolves student-athlete, are advocates for collegiate athletics and avid philanthropists supporting both the Seawolves women's volleyball and men's basketball teams. "We believe [they] are on the cusp of greatness and only need a small push to reach their goal: an ACAA championship banner and a berth to Nationals," says Alexis. 
Enlisting the help of fellow Seawolves supporters and UNB colleagues, Dave Decker (MEd'15) and Wayne Hanson (BA'09, MIDST'14), Cory is furthering his involvement by holding a fundraising social in support of student-athlete scholarships this month.  "We're looking forward to having a great time while celebrating some of our top campus contributors," says Wayne, who will be lending his musical talents to event.  The social will take place at the Moosehead Small Batch Brewery on Saint John's West Side and features drinks from the taproom, hors d'oeuvres, music and a chance for alumni to catch up.
"I believe these athletes are sometimes overlooked, despite what they offer to our academic landscape as ambassadors of their institutions and contributors to student life," says Cory. "My goal is to challenge other alumni to step up, and be generous to these young athletes looking to make a difference in their lives and our community."
You can rise to Cory's challenge by registering for the August 22nd event.  Ticket are $100 for alumni and $60 for U35 alumni.  If you are unable to attend, you can choose to sponsor a ticket for a student-athlete. For more information, visit the event website.