2018-19 Libero of the Year coming to the Seawolves
Author: B. Waston
Posted on Aug 29, 2019
Category: ACAA , Volleyball , Varsity Sports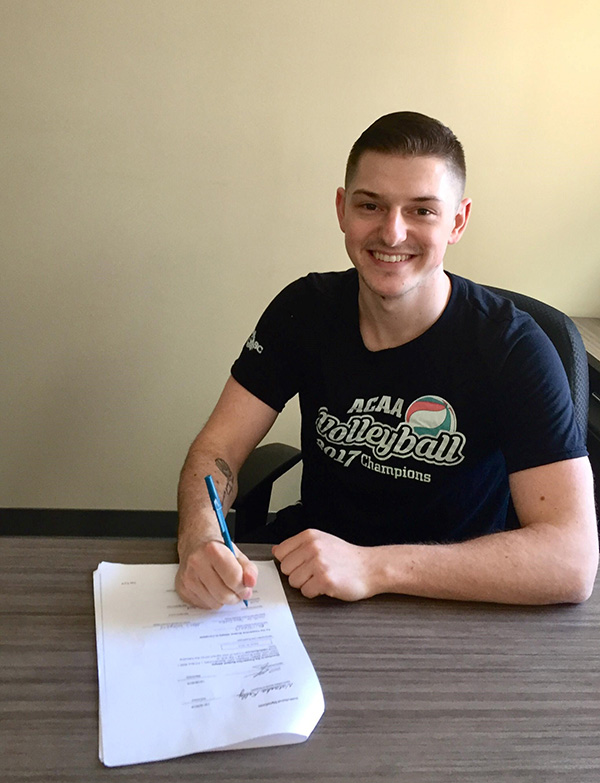 As we step back into the Academic and Athletic season, we would like to welcome another recruit, Marcus Lapointe! Originally from Wolfville, Nova Scotia, this student athlete has made a name for himself at Holland College, and now joins our men's varsity volleyball squad for the upcoming season.
Coach Dino Karatzios has seen Marcus dominate at Holland college for the past 2 years, winning libero of the year in 2017 and 2018. He is beyond thrilled to have an amazing passer and defensive recycler at his disposal.
"Excellent libero and exceptional play reading abilities" says Dino. He also commented on Marcus's reflexes and tremendous aptitude at receiving the ball.
Lapointe has received diplomas in business administration and accounting technology in 2019 and plans to continue his education and volleyball career here at UNBSJ. A Horton high school Alumnus, Marcus kept his performance on and off the court at a high level all the way to Holland college, where he received accolades of sports performance such as rookie of the year and others. He believes his best assets are his defensive skills, which lead to more play and less aces.  
"I think I will bring a positive energy to the team, keep all my teammates in high spirits and always bring a smile on the court" says Marcus.
He claims to have different role models on versus off the court. While playing varsity sports, he claims to be inspired by all teammates. Off the court, he looks to his mother for guidance and as an example of strength and caring. He loves varsity sports as an outlet for the stress of everyday life.
He starts his Bachelor of Arts in the fall, majoring in communication studies. His goals for the upcoming season are the ACAA title and a place at nationals. Dino shares his ambition and is anticipating that the mature player will lead by example.
"Marcus will be the Quarter back of our defense this year" says Dino.
Welcome to the Seawolves family Marcus!