Staying Local: Fury-Miller Signs with Seawolves
Author: B. Watson
Posted on Jul 17, 2019
Category: Basketball , ACAA , Varsity Sports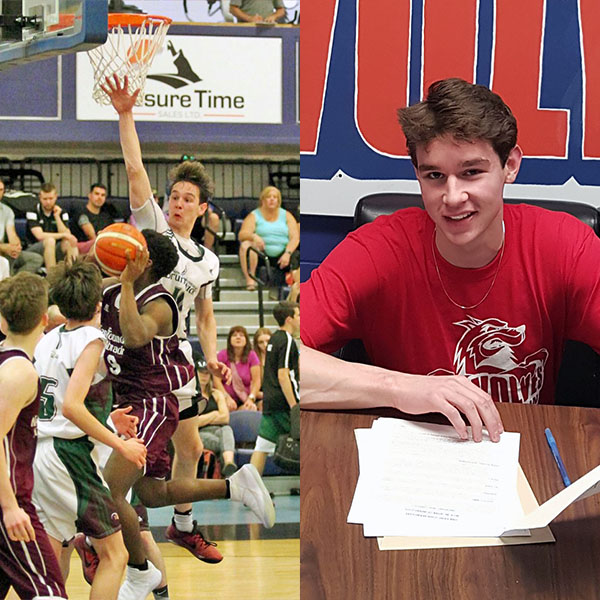 The Seawolves Varsity Men's basketball squad has snagged a hometown steal, hailing from Grand-bay. Jack Fury-Miller has been enamoured with basketball for a long time and is looking to continue his impressive career into his Bachelor of Science degree.
Back at Harborview High School, Jack racked up MVP's in soccer, volleyball and basketball. He was also awarded 2 Athlete of the year distinctions (2017 and 2019). A high honors student with multiple scholarships like the Governor Thomas Carleton and James Somerville, he was noticed early in high school by Seawolves coach Peter Vincent
"Watching Jack, it was obvious that he had the length and athleticism to be successful in the high school provincial ranks. [However], I believe those attributes will carry over to playing at UNB Saint John.
Jack is excited to be joining a roster with a younger core and that is striving for excellence. He believes he can be a well-rounded addition to an already impressive roster and has set his sights on rookie of the year for his first season. He has always loved basketball despite the challenges that it has brought before him, which he believes only served to strengthen his passion for the game. Being selected for the Basketball New Brunswick team 3 times, it's easy to see that he is telling the truth.
Being another great Student Athlete among his recruit class, Jack is exited to start the next chapter of his life at UNBSJ
"Everything seems to fit academically, socially and athletically"
Peter believes he will be a force in the ACAA, as a scoring wing for the Seawolves and being a threat in the paint as well as beyond the perimeter.
Welcome to the Seawolves family Jack!