Tyler Travis Signs with the Seawolves
Author: S. Guimond
Posted on Apr 9, 2019
Category: Soccer , Uncategorized , Varsity Sports , ACAA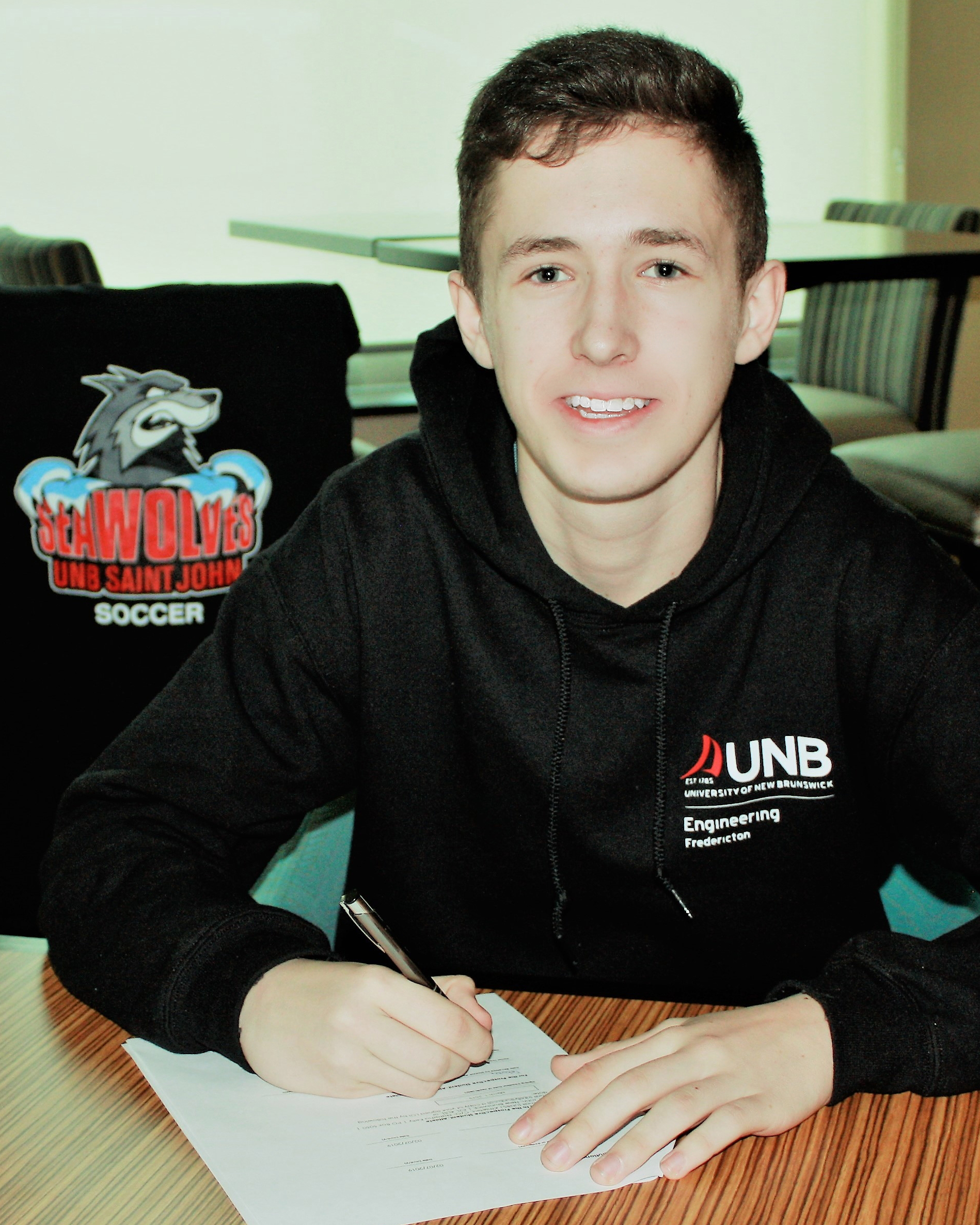 Tyler Travis from Riverview, NB has officially signed with the UNB Saint John Seawolves as part of the Men's Varsity Soccer team. 
Tyler is a graduate from Riverview High School and has been playing soccer since he was 4 years old. Training never stops for him and his committment has gotten him to where he is today. During the summers he trains with Dieppe Soccer and in the winter is a member of the Indoor Men's Team. He's played for his city team, school team and Team New Brunswick.
"Soccer is more than a sport. I see soccer as an opportunity to create a solid team-oriented attitude. I view soccer as a culture and a system to express one's feelings through motion".
Tyler will add new style to the Seawolves line up through his development outside the Fundy team. He plans on creating innovative ways of getting the ball up the field by using off ball movement. His goal as an athlete for the soccer program is to bring in a new set of skills to the team and plans to continue his training over the summer to provide a physical and technical playing style during the season. 
His parents are his biggest role models. 
"They go out of their way to ensure anything I want to pursue is possible". They are a major reason Tyler puts his best efforts into completing tasks to a high standard. 
Tyler will be taking the Bachelor of Science in Engineering program once he arrives in the fall. His interest lies in the labs and courses of first year engineering that will challenge him to apply mathematics and physics to solve problems. He is a goal-driven athlete and student who sees the value in performing on and off the pitch. 
Head Coach, Dave Vicente was contacted by Tyler while he was in grade eleven. They stayed in touch and his progress was followed up with invites to some of the Seawolves' training sessions. After watching Tyler train and play it was noted that his skills, fitness and work rate would help the team greatly. Vicente mentions that since Tyler has played at the provincial level he has come across a lot of different styles of coaching and believes he will mesh well with the team. 
"He's a young man that is well organized with a plan for his future which includes our soccer program. He will bring a competitive energy to the team as well as increase the team's overall skill level'.
Vicente will further develop and enhance Tyler's skill through passing based drills and training, and envisions Tyler picking up the team system quickly. Tyler's decision-making skills on the pitch will also improve as the team likes to train at game speed. 
"I see Tyler pushing returning players for playing time which is good for everyone". - Dave Vicente
Welcome to the Seawolves Family Tyler!