Birney and Hamilton named Seawolves Athletes of the Year
Author: Natasha Kelly
Posted on Mar 22, 2019
Category: Varsity Sports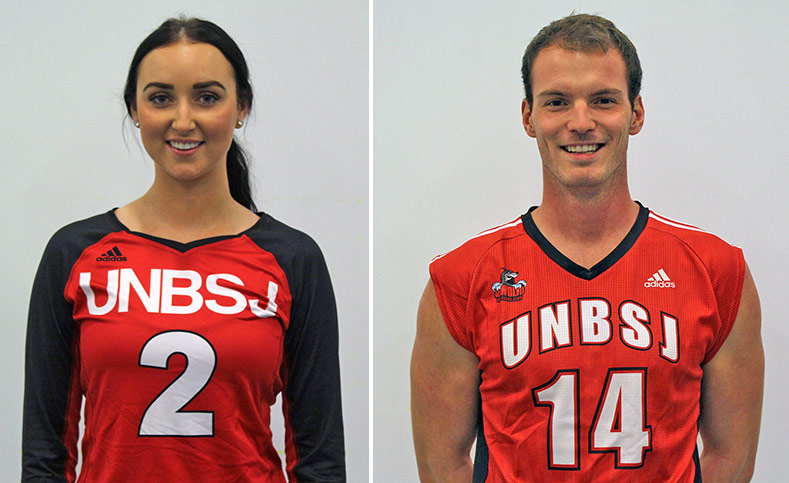 ---
UNB Saint John held its 53rd Annual Varsity Athletics Evening on Friday, March 22 to honour its student-athletes. Volleyball middle hitters Maggie Birney and Zane Hamilton were named the Male and Female Athletes of the Year.
Birney, a Renous native, is a fourth-year Atlantic Collegiate Athletics Association (ACAA) athlete who spent her freshman and sophomore seasons with the Mount Saint Vincent Mystics. Transferring to UNB Saint John in 2017, Maggie has flourished under the leadership of 2019 ACAA Coach of the Year, Lauren Hale-Miller. A three-time Canadian Collegiate Athletic Association (CCAA) National Scholar Award recipient, Birney excels in the classroom and brings that same dedication to her sport and the community.
"Maggie's key strengths are her creativity, high energy, passion and intensity," says Hale-Miller. "She is consistently finding ways to better her teammates and herself on and off the court". The Seawolves placed third in the regular season with 28 points and a 14 -7 record.
Maggie placed first in the ACAA for total blocks and second solos and block assists. She attained a hitting percentage of .304 and had 125 kills. Maggie was named to the ACAA's First All-Conference Team and recently attended the National Championships in Niagara, Ontario to accept the CCAA All-Canadian Award.
Hartland native Zane Hamilton was instrumental in his team's second place regular season finish. The former ACAA Rookie of the Year [2017] ranked first in total blocks (50), block solos and block assists, attained the highest hitting percentage (.279) in the ACAA and had 141 kills.
"Zane is a fierce competitor who thrives under pressure when the game is on the line," says Seawolves head coach, Dino Karatzios. "He has one of the hardest hits in the ACAA and makes the opposition pay with quick kills in the middle".
In his third and final season with the Seawolves, the three-time ACAA First Team All-Conference player earned the ACAA's Player of the Year award. He was also named as a CCAA All-Canadian player in Red Deer, Alberta during the 2019 National Championships and was one of five nominees for the CCAA Player of the Year award.
The Dr. Ann Gorman Condon Academic Athletic Achievement Awards were presented to UNB MEDLIFE chapter members Kathryn Magee and Logan Perry. The award recognizes outstanding athletic performance while maintaining dean's list status. Magee, who hails from Saint John, is a top contributor for the women's basketball team. She is a four-time CCAA National Scholar and a participant of the UNB CO-OP program with a focus in accounting.
CCAA National Scholar Logan Perry of Hampton, was named to the ACAA's soccer second All-Conference team and is one of four UNB Saint John student-athletes to be nominated for the prestigious CCAA Academic All-Canadian Award this season.
"To achieve excellence in both sport and academics requires tremendous skill, dedication and perseverance," says Athletics Director David Munro. "In addition to being outstanding athletes and students, Kathryn and Logan are dedicated volunteers and display the qualities of great future community leaders".
Team Rookies of the Year
Team Rookies of the Year were: Karlee Duval (soccer); Cole Healey (soccer), and Erin McCavour (Track & Field).
Team Most Valuable Players
Most Valuable team members were: Kaitlin Casey (soccer); Alex Allison (soccer); Kathryn Magee (basketball); Keegan Gray (basketball); Maggie Birney (volleyball); Zane Hamilton (volleyball), and Victoria LeBlanc (track and field).
See the full list of recipients, including ACAA and CCAA accolades and photos of the event.