Director of new social work program driven by desire to change lives for the better
Author: Hilary Creamer Robinson
Posted on Nov 16, 2023
Category: UNB Saint John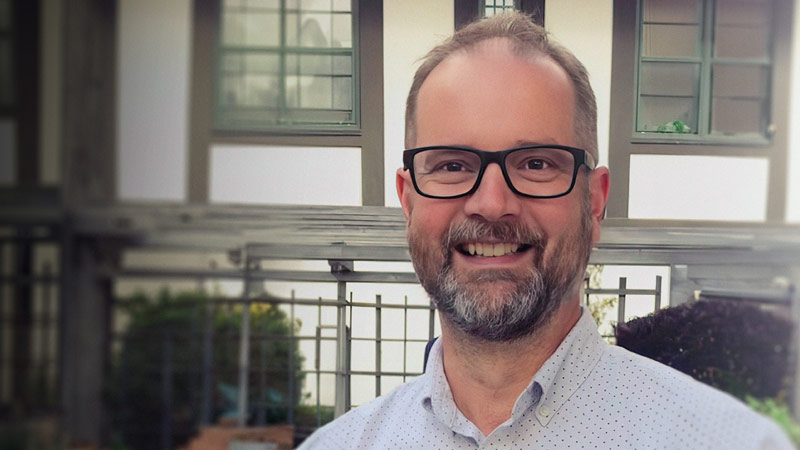 Dr. Ian Rice, the director of the new Bachelor of Social Work (BSW) program at the University of New Brunswick (UNB) Saint John, describes social work as an all-consuming lifestyle. Until last summer, he spent his career on the front lines of child welfare, supporting vulnerable children and their families. As a father of five, Rice's children have long helped drive his commitment to the profession.
"I have teenagers and [toddlers] at home," said Rice. "They open my eyes to kids their age and help me revisit the issues facing kids. When I look at my kids and their stages in life, it motivates me to help others. That has always been the spark that keeps me interested in social work."
Rice's dedication extends well beyond field work.
He is vice president of the New Brunswick Association of Social Workers, where he is a strong advocate for the profession of social work. He says it plays a valuable role, providing a voice for the profession in New Brunswick. Given Rice's passion for helping, advocating on behalf of his peers – for whom he holds deep respect – is gratifying work.
So too are his research interests, focused on professional regulation and its implications on the practice of social work. Rice recently published a paper in the International Journal of Social Work Values and Ethics, focused on the intersection between social justice and professional regulation in Canada. Currently, he is working on research around minimum entry requirements for social workers to become registered in Canada; a timely project given the recruitment and retention issues currently faced by the profession.
"This area of research allows me to explore a part of social work that is vitally important to the profession but is often misunderstood by social workers," Rice said.
As a sessional lecturer at Dalhousie University's School of Social Work from 2013 to 2023, he had the opportunity to share the importance of these issues with students and build bridges between education and practice.
"I would find myself talking about the stuff I did that day and how it related to [students'] studies," Rice said. "I want to bring that work to the classroom and bring concrete examples to the students and get them excited about the work."
This is the approach he hopes to bring to UNB's social work program, which will welcome its first cohort of students in September 2024.
"I want to graduate students who are interested in getting to know clients' individual stories. [Who will] sit with them at Tim Horton's, at their kitchen table, on a park bench … be in the community."
For many people, it can be a career full of rewards, he said.
"All sorts of people can do social work. You don't have to be an extrovert. You just need a desire to make some change."
Rice was quick to point out that to him, success is not just about large scale, systemic transformation.
"If [students] change something for an individual, a child, a senior, that's success," he said. "If you're not helping the individual where they are, in that moment, all those other pieces are hard to work with. You need to focus on family needs, individual needs."
At UNB, BSW students will be provided with an education that makes strong connections between research and practice. Using evidence from current research into areas like homelessness, regulation, child welfare, mental health, addictions and community development (to name a few), students will be encouraged to begin developing their professional identities and contemplating the areas of practice that play most to their strengths.
Supporting students in this way and watching as they gain skills, knowledge and confidence is yet another profoundly gratifying aspect of Rice's career.
He also spoke about the pride he feels when students become open to really listening to clients' stories and working with that history to build a respectful dialogue and eventually, trust. This pragmatic approach is at the heart of Rice's leadership style.
Guided by this ethos, and housed within UNB Saint John's Faculty of Arts, BSW students will learn from academic experts as well as front-line workers with important community connections.
Experiential learning opportunities will expose students to the client-facing side of social work, including issues faced by the community, clients and professionals; like New Brunswick's shortage of trained social workers, their overwhelming caseloads, and resulting stress, burnout and other mental health implications, is known to many.
"People are currently overworked," said Rice. "The same number of people in the community are hurting and need help, but we don't have enough social workers to do the work."
UNB's BSW program will directly address this issue by graduating more skilled workers who will be trained and ready to enter the workforce.
And as a front-line social worker for over 23 years, Rice knows first-hand the importance of teaching students the skills to maintain their own wellbeing.
"[Social work] can be emotionally taxing," he says. "It's important we support students from the get-go."
This is why a course on mental health and burnout will be a mandatory part of the BSW curriculum.
"It's important students are provided with a course that teaches them how to manage stressful situations, manage their own stress, know when to step back and when to ask for help," Rice said. "People aren't going to look down on you if you're struggling."
Rice's dedication to social work and all its people – clients, support workers and policy makers – is real. His mission too, is clear: provide UNB's BSW students with the tools necessary to emerge as skilled, thoughtful, emotionally intelligent and resilient social workers, and watch New Brunswick become a healthier, happier place. One person at a time.
"I'm proud to be part of the solution to a big problem," Rice said. "I bring a lot to the table. I have 23 years-worth of stories in my backpack to share."
Applications to the University of New Brunswick Saint John's Bachelor of Social work open Nov. 14. The first cohort of 35 students will begin Sept. 2024, with five additional seats added per year until 2026.