UNB students step into another world through study abroad program
Author: Kathleen McLaughlin
Posted on Sep 15, 2023
Category: UNB Saint John , UNB Fredericton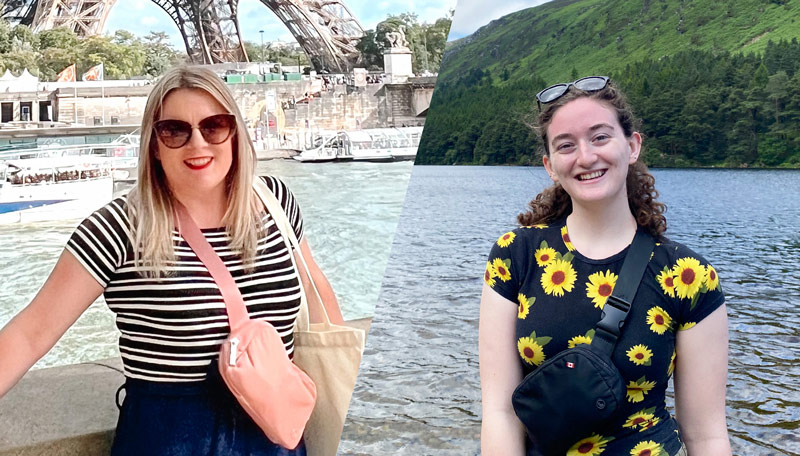 In the month of September, the University of New Brunswick (UNB) is shining a light on the Student Experience through stories that showcase how the university tries to foster a vibrant, inclusive and supportive culture for its students. This is the second story in the series.
Heading off on a solo adventure to explore a new country can be a scary experience and one that often feels distant or unattainable for university students.
The Summer Term in Europe Program (STEP) at the University of New Brunswick (UNB) recognizes many students experience this barrier, so they designed a program to bridge the gap and get students out experiencing the world.
Sarah McLaughlin and Wendy Storey took up the opportunity to travel to Europe. This was McLaughlin's first time overseas and on an airplane.
McLaughlin is a second-year kinesiology student. She travelled with the STEP program in June to study at University College Dublin in Ireland, enrolling in their global public health and sports studies summer school module.
"Dublin is such a great place for new travelers," said McLaughlin, "especially in a school environment because the campus is close to the city and the bus system is great."
UNB's STEP program, launched in 2022, allows UNB students to study abroad in short-term structured international programs in a European country.
While studies bring the students to the various locations, they are also immersed in the culture, food, social life and traditions the places offer.
During McLaughlin's three-week stay in Dublin, she got to participate in traditional Irish sports like hurling, visit places like Galway, popular for its pubs and local folk music, and, her personal favourite, a visit to an urban farm where she learned about sustainable living.
"This trip has helped me expand my global knowledge and understand different cultures," said McLaughlin. "I've also learned a lot about myself and showed me what I'm capable of, like travelling by myself to another country."
This past summer was the second year STEP invited students from various backgrounds on a safe and fully funded trip abroad.
Fourth-year student Wendy Storey is pursuing bachelor of arts and bachelor of education degrees, with a double major in psychology and history on the Saint John campus.
After hearing about the STEP program, she decided to seize the opportunity to travel to her favourite place – Paris, France, where she studied French at Institut Catholique de Paris (ICP).
"I've been to Paris before with my husband, but we get to explore very much," said Storey. "I'm going be a teacher, so I thought it would be helpful to learn French because New Brunswick is a bilingual province, and it could be very helpful in my future career."
Alongside her studies, Storey got to visit the Palace of Versailles and the Rodin Museum and go on a scenic riverboat cruise through the historic cobblestone city of Paris. She also did some activities of her own to make the most of her time in Paris and Europe.
"As part of the STEP program, I'm doing things that I wouldn't do on vacation," said Storey. "I get to live like someone from France and experience their everyday lives. It's nice to see the comparison to what things are like in Canada, too."
She also took short trips outside France.
"I made day trips to Brussels and Amsterdam since they were an easy train ride away on the speed train and both were beautiful," said Storey.
"I am a massive Disney fan, so I visited Disneyland Paris a few times on my own. I even was lucky enough to have a couple of celebrity sightings as I stumbled upon a Fendi Fashion week Haute Couture Fashion show ending and saw Zoe Saldana and Shakira, which I found quite exciting."
Both students found travelling with the STEP program to be a valuable and mind-opening opportunity to delve into diverse cultures while furthering their education.
"When travelling like this, you learn a lot about yourself and the world," said Storey. "You must be thinking critically and use your problem-solving skills because you never know what's going to come up. So, it helps you kind of grow as an individual."
"I'm so thankful for this opportunity," said McLaughlin. "It was an amazing experience that I would recommend to any student who has never travelled before, and if I got the chance to do it again, I definitely would."
Students interested in the STEP program for Summer 2024 can email Veronica McGinn (Fredericton) and Ase Kelly Berg (Saint John) at STEP@unb.ca or express interest.
First story in the series: UNB Cricket Club: Strong bonds formed through connection and camaraderie
Photo: Wendy Storey and Sarah McLaughlin