Toronto Raptors star teaming up with McKenna Institute to help UNB students from Cameroon
Author: UNB Newsroom
Posted on Aug 31, 2023
Category: UNB Fredericton , UNB Saint John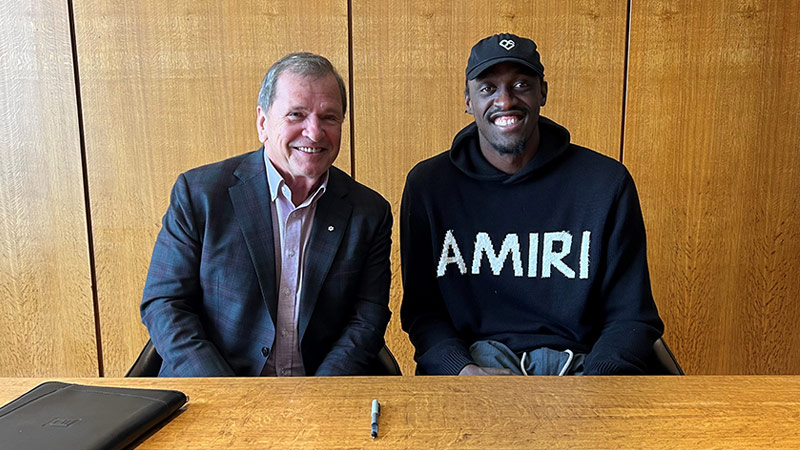 Pascal Siakam has become a star forward with the Toronto Raptors of the National Basketball Association (NBA). As a young player in Cameroon with a lot of talent and potential, Siakam's father always told him not to take a career in basketball for granted. Though things worked out for the two-time all-star and NBA champion, he's paying it forward with a scholarship program for young people coming from Cameroon to the University of New Brunswick (UNB).
Siakam and his PS43 Foundation are teaming up with UNB's McKenna Institute and the River Philip Foundation. Together, they're putting $200,000 towards a new tech-focused scholarship to students from Siakam's birth country of Cameroon.
"My dad told me that — as a player — an injury can end your career before it even starts, but the one thing no one can take away from you is your education. That's why our foundation is focused on supporting the dreams and aspirations of students," said Siakam, who has dedicated the scholarship to the memory of his father, Tchamo.
Dr. Paul Mazerolle, the president and vice-chancellor of UNB, says the students will be well-positioned for the future with tech-focused training.
"As advances in technology change the way we live and work, we want to ensure our students are ready to not just deal with change but to lead it," said Dr. Paul Mazerolle, UNB president and vice-chancellor. "We are excited to work with Pascal and the PS43 Foundation to provide UNB students from Cameroon with the resources they need to become leaders in technology."
The scholarship could be a game-changer for students like Cedrick Tahmo, a second-year computer science student who started at UNB after doing three years at the University of Bamenda in Cameroon.
He had to put those studies on hold when armed conflict broke out in 2019 between anglophones and francophones in Cameroon.
"University in Canada is expensive, but education is important in my family, and I knew the investment would be right for my future," said Tahmo.
Tahmo works at a local second-hand electronics store, Beats and Bytes, to help him make ends meet. But balancing a full-time course load with a part-time job isn't easy.
"As a dedicated full-time student, I find it challenging to keep up with tuition and living costs," he said. "I think the Pascal Siakam scholarship will help Cameroonian students like me focus less on working and more on our studies."
Frank McKenna, benefactor of the McKenna Institute, said UNB is well-positioned to train future leaders from the African nation.
"I think it's only fitting that a university that is right on the front doorstep of our country is the one to welcome future leaders from Cameroon and help them to dream big," said McKenna.
Siakam is honoured to help students from his native Cameroon.
"As a player on Canada's NBA Team, it's a real privilege to do my part to join with UNB to welcome students from the country where I was born, into the country I call home," added Siakam.
The Pascal Siakam Scholarship is also supported by the River Philip Foundation. The award will give $8,000 to students from Cameroon who are enrolled in technology-related programs at UNB.