McKenna Institute summit brings together New Brunswick's innovators and entrepreneurs
Author: Mark Leger
Posted on Jul 4, 2023
Category: UNB Saint John , UNB Fredericton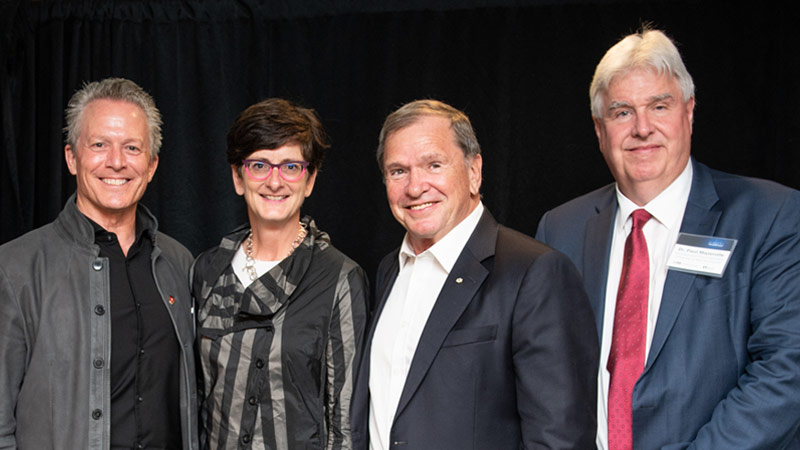 From left to right: Hans Keirstead, CEO of AIVITA Biomedical Inc.; Adrienne Oldford, executive director, The McKenna Institute; Frank McKenna, Benefactor, The McKenna Institute; Dr. Paul Mazerolle, president and vice-chancellor, UNB. Photo credit: UNB Media Services.
For most people, talk of digital innovation makes them think about software development and smartphones, not farming and forestry.
That wasn't the case at the recent McKenna Institute Digital Innovation Summit at the Algonquin Resort in St. Andrews. In a conference breakout session about addressing hurdles to innovation, business owners from many sectors of the economy were engaged in an animated discussion.
Farming, forestry, insurance, IT, and health services executives and company owners all said they faced challenges like rallying their teams to embrace a culture of change and innovation that will ensure the future success of their companies.
"We've been around for 100 years," said one participant, "and we want to be around for another 100 years."
Frank McKenna, the founder of the McKenna Institute at the University of New Brunswick (UNB), says companies of all kinds need to innovate. The former premier says that includes forestry companies, food-production businesses and small bed-and-breakfast operators.
"There's not a sector of the economy that can't do better by having more information and better tools," said McKenna in an interview at the end of the two-summit. "From the largest enterprises to the smallest, we just need to make sure they have access to the [right digital innovations]."
The second-annual summit provided a networking opportunity for business owners and executives; elected politicians, government employees, university researchers and institute heads; and leaders from non-profit economic development organizations.
The face-to-face informal gatherings and formal meetings were an important feature of the summit. The organizers, including EY's New Brunswick Managing Partner Claude Francoeur, believe the region's leaders need to collaborate more to develop innovative products and processes that will grow the economy.
"We need to change our mindset [in this region]," said Francoeur. "For too long we've been operating in this stigma of scarcity. It's leading to certain behaviour that is not conducive to the amount of collaboration that we're capable of. I think that's how we're going to scale innovation and progress in this province and across Atlantic Canada."
There were large-group presentations and facilitated small-group discussions on challenges and opportunities for local companies. There were also two keynote addresses during an evening banquet that included more than 100 summit participants.
Dr. Hans Keirstead, the chief executive officer of California-based AIVITA Biomedical Inc., is an internationally recognized stem cell expert who has led therapy development for late-stage cancers, immune disorders, motor neuron diseases, spinal cord injury and retinal diseases.
Tessa Lyons is the Director of Product Management for Instagram Home, the main consumer product on the social media platform. She has led teams that build consumer products like Feed, Reels and Explore.
Both Keirstead and Lyons are from the region and are examples of the innovative minds that have emerged from here.
UNB has played an active role in creating the opportunities for collaboration and conversation between entrepreneurs, innovators and researchers. In addition to the McKenna Institute, the university is now home to several entrepreneurial institutes and centres, including the Pond-Deshpande Centre, J. Herbert Smit Centre for Technology Management and Entrepreneurship and the Canadian Institute for Cybersecurity.
At the close of the summit, UNB president and vice-chancellor Dr. Paul Mazerolle announced plans to launch a new centre of innovation: The Data Science and Artificial Intelligence Institute.
More details are forthcoming, but Mazerolle says the new institute will help New Brunswick companies and innovators tackle new economic and social challenges and opportunities. His remarks to the conference participants also echoed the spirit of working together which was a theme throughout the summit. The new Institute at UNB will explore research collaborations with the Atlantic Centre of Excellence in Artificial Intelligence and Data Management (PLEIADE) at the Université de Moncton to expand New Brunswick's AI capabilities on a national scale.
"We're stronger together when we collaborate and consolidate to take on the real challenges of our society, helping business, dealing with government, dealing with inefficiencies, and looking for new opportunities," he said.