First students to graduate from new BH program appreciate well-rounded, innovative education
Author: Kathleen McLaughlin
Posted on May 26, 2023
Category: UNB Saint John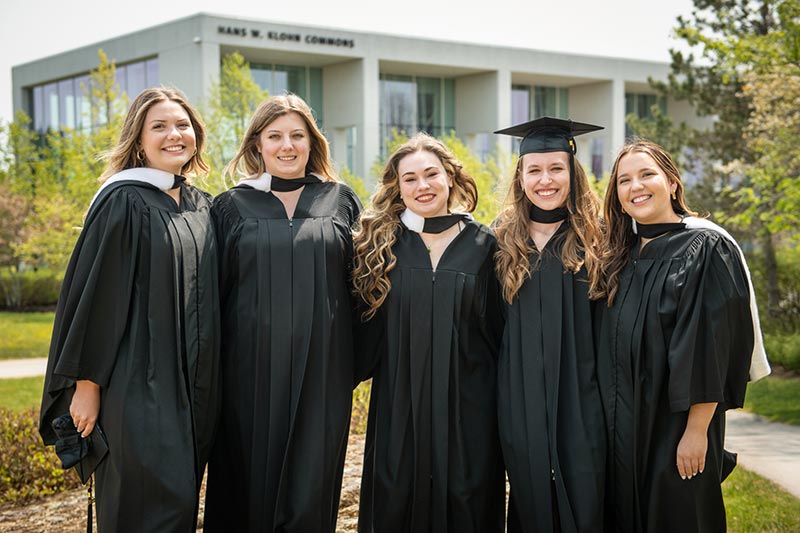 The University of New Brunswick's (UNB) first cohort of bachelor of health (BH) students are off to become the next generation of health professionals, advocates and communicators to help solve the grand challenges we face in healthcare today.
Launched in 2020 as part of the Integrated Health Initiative at UNB Saint John, the BH program is a four-year interdisciplinary program focused on all aspects of health. It allows students to develop the knowledge and skills needed to succeed in a variety of careers in the health sector.
Megan LaRochelle is one student in the program's first graduating cohort. During her second year at UNB's Fredericton campus, while working towards a bachelor of science degree with a major in medicinal chemistry, LaRochelle knew she wanted more of a health-related education.
After seeing an announcement about the BH program, she instantly applied and began her studies in the Fall of 2020. She graduated last week with a BH in biomedical sciences.
"What I love most about the program is that you get a good understanding of a lot of health-related topics at a high enough level that you're confident in the subject matter," said LaRochelle.
"We were lucky to have so many professors with different backgrounds, who were well established and came with so much knowledge and expertise in their field," added LaRochelle. "It was interesting to see different career paths you could take in healthcare with this degree."
The BH program integrates arts, science and business, allowing students to understand the health sector from a variety of perspectives. This approach is building the talent pipeline to be equipped and prepared for the future healthcare sector. The degree program is offered at UNB Saint John and at the heart of the Tucker Park health cluster, which includes the region's largest tertiary care hospital, nursing and medical schools, and community college health programs.
Through the Social Science in Practicum (SOCS4501) course offered, she gained work experience as the communications coordinator at New Brunswick Social Pediatrics. The connections she made during her placement landed her a permanent position working with the Vitalité Health Network's NB Fetal Alcohol Spectrum Disorder Centre of Excellence as the community coordinator for the Saint John region.
"When I first started the program, it was because I liked health and sciences," said LaRochelle. "But as I went through it, I was drawn to the social side of things and with my work placement, I was able to explore my interests."
LaRochelle looks forward to seeing the new IHI building when it's complete and hearing about all the new programs they are bringing to UNB's Saint John campus.
"It's an exciting time for UNB and our health sector," said LaRochelle. "There are going to be lots of great things that come from this program, because it really is a valuable program, and it's an honour to be part of the first cohort."
Riley Thomson is also a graduate of the BH program. She began at UNB in the bachelor of health sciences program with the intention of studying radiography. However, she quickly changed to the BH program following its announcement.
"I did two years of health sciences and all that I had left was the clinical side, but I wasn't sure about it," said Thomson. "It just so happened that at the time I was questioning my path, the BH program was announced and it was exactly what I was looking for."
"At a young age, I saw my grandmother be diagnosed with Alzheimer's and in university I spent a lot of time with her in nursing homes," said Thomson. "This experience really inspired me to explore working in healthcare."
Thomson said the BH program helped her discover her passion for gerontology and supporting the aging population.
"The BH gave me the classroom experience and knowledge I was seeking about the healthcare sector," said Thomson. "My classmates and I had so many unique conversations that I think can only be had when you're learning about health in a multidisciplinary way.
"In my SOCS4501 placemen last summer, I got to work at Shannex, as the recreation coordinator, learning how to run and plan activities for residents, record their participation and attend meetings with different departments to discuss what was going on around the home," said Thomson. "This experience, along with the classroom work, showed me how much I love gerontology."
Learn more about the bachelor of health program and similar programs under the Integrated Health Initiative.