UNB international students secure jobs after completing new certificate program
Author: Kathleen McLaughlin
Posted on Apr 25, 2023
Category: UNB Fredericton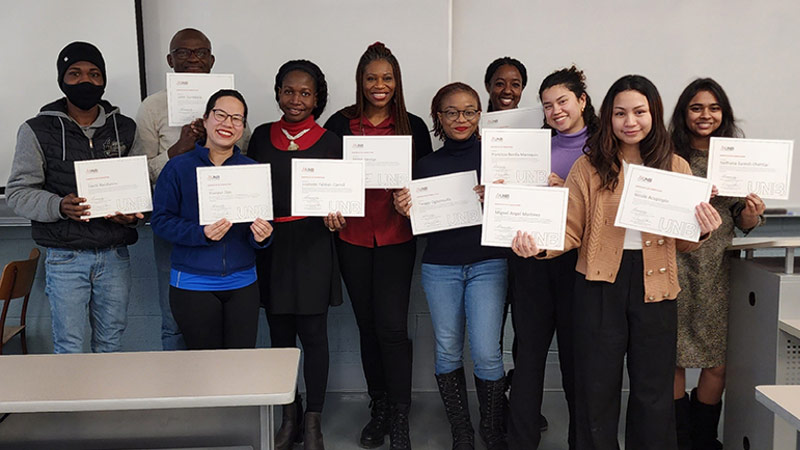 A new international student certificate program offered at the University of New Brunswick (UNB) is helping students begin their new lives in Canada and secure work placements in their field of study.
In an effort to strengthen and evolve relationships between employers and international students, the Career Development and Employment Centre (CDEC) partnered with the International Student Advisors Office (ISAO) to create and deliver a six-week certificate program.
The certificate program is designed to provide international students with essential skills needed to succeed in the Canadian workplace.
Each week, in-person workshops were delivered in collaboration with local community partners, WorkingNB and Ignite Fredericton, to provide students relevant, real-world resources and guidance.
UNB Fredericton students Tashara Young and Sadhana Chettiar joined the program in January, hoping to learn more about the Canadian workforce and culture.
Young is an international student from Jamacia studying to receive a master of education in curriculum and instruction, and Chettiar, is from India and enrolled in the master of computer science program. Both students study on the Fredericton campus.
"My program includes an eight-month co-op internship starting in May," said Chettiar. "I thought this could really help me because I'm still learning how securing jobs works here. Canadian culture and the way people approach things is very different."
Each week, the program focused on a variety of employment-related topics that support the success of newcomers to the Canadian workforce. In addition to learning how to articulate their unique skills and goals to potential employers, participants discussed the significance of fundamental essential, or "soft" skills necessary for success in the workplace, and are transferable from one employment opportunity to another.
Essential skills include time-management, communication, leadership and adaptability. Both students found networking and resume and cover letter tailoring to be the most helpful topics in the program to secure their work terms.
"I learned that Canadian employers use a tracking system to quickly go through applications if they receive more than they can physically go through," said Young. "The program instructor emphasized the importance of taking the time to tailor your cover letter and resume to the job that you are applying for, using keywords the system will capture."
Three weeks after the program had ended, Young sent out three applications for jobs, each taking a day to complete. A few days later, she received a call for an interview and successfully secured a teaching job.
"I'm so excited about starting my new job," said Young. "If it were not for the international student certificate program, I don't think I would have been in this position today. Thank you to Valeria and the CDEC team, as well as the ISAO, for making this dream a reality."
Chettiar was also successful in securing a work term with the connections she built through the program.
"I had my mock interview session with WorkingNB which was organized by the program, the very same day we had a networking session at GNB," said Chettiar. "It was thanks to the program sessions and the mock interview session that I was able to make connections at the networking session, which helped me get an internship."
In May, Chettiar will work with the New Brunswick Department of Transportation and Infrastructure (NBDTI) as a data analyst.
"I would definitely tell every international student to attend this program if they can," said Chettiar. "It's an amazing opportunity and the people organizing it make every session worthwhile and unique."
For more information on how to join the next cohort of the international student certificate program, visit UNB's Career Development and Employment Centre or contact Valeria Boquin Martinez, at valeria.boquin@unb.ca.