Improving the social determinants of health through meaningful work placements
Author: UNB Newsroom
Posted on Mar 28, 2023
Category: UNB Saint John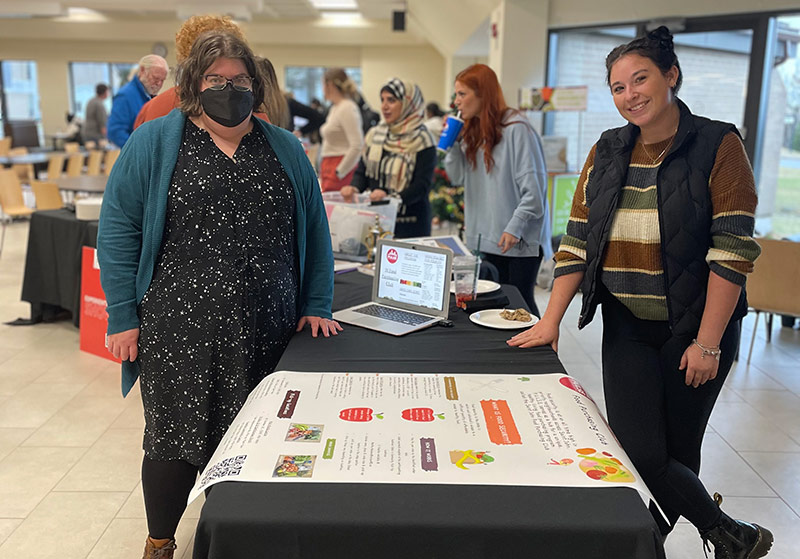 Julia Kaine (BA'22) was in her fourth year of her bachelor of arts degree in communications at the University of New Brunswick's (UNB) Saint John campus when she heard a student in the Social Sciences in Practicum course, SOCS 4501, present on the experiential education aspect of the class. Julia thought it sounded interesting and knew it was a class she wanted to take, so she reached out to the instructor, Sarah King, to enroll.
SOCS 4501 provides students with a minimum of 60 hours of volunteer or paid work experience working in an organization, institution or business related to their disciplines. Students in the course use their existing knowledge to challenge their assumptions and ideas while better understanding themselves and their peers. Each semester has a course theme and her semester touched on the social determinants of health.
Kaine chose to work with the non-profit organization People United in the Lower South End (P.U.L.S.E. Inc.). Established in 2008, P.U.L.S.E. Inc. is a neighbourhood action group and resource centre serving the south end of Saint John. As an advocate and leader in building partnerships, P.U.L.S.E. Inc. focuses its programming on areas such as food and income security and resident and senior engagement.
"P.U.L.S.E. Inc. met every requirement for the course and was a match made in heaven," said Kaine. "They provide daily support services and programs addressing food security, community policing, tax and healthcare appointments and outreach services."
One P.U.L.S.E. Inc. program that stood out to Kaine was its food purchasing club.
"People who sign up for this club can either pay $15 or $25 and they get a variety of affordable seasonal produce," said Kaine. "The club works by pooling money from orders that allow them to purchase in bulk directly from wholesalers. This service is available to anyone, and it is a demonstration of the collaborative effort between P.U.L.S.E. Inc. and its community partners."
With a background in graphic design, photography and videography, Kaine collaborated with the staff at P.U.L.S.E. Inc. to produce various forms of content, such as social media graphics and an information video for their website. At the end of the term, she prepared a community analysis and poster presentation on her work.
"In our final project, we reflected on our experience and demonstrated how that experience tied into the theme of the course," said Kaine. "We also discussed our roles with our community partners and their impact on the community overall."
One of her main takeaways was understanding the depth and breadth of the work involved in running this type of organization.
"Every day was different, and I really got to see the human component and connect with people who shared a common goal," said Kaine.
She presented her final reflections on posters at a showcase last fall and found the overall experience extremely positive.
"The people I worked with were down to earth and you could tell they really want to help their community," said Kaine. "It was inspiring to be in that atmosphere."
Mary Lesage is a neighbourhood developer at P.U.L.S.E. Inc. She thought Julia was an eager young intern who fit quite well into their organization.
"Her skills with the camera and graphic design work were exactly what we were looking for to complete some unfinished projects here at P.U.L.S.E. Inc.," she said.
Kaine has since graduated and is now working as a communications specialist at J.D. Irving, Limited. She believes this experiential learning opportunity and the education she received at UNB were strong contributors to her success in today's competitive job market.
"I essentially finished my degree and started my career on the same day, which was amazing," said Kaine. "I'm so glad I got to take SOSC 4501 because it helped me prepare for my future. I would recommend it to any student."
Learn more about experiential education at UNB.