UNB economics students solve real-world challenges in the first year
Author: UNB Newsroom
Posted on Mar 21, 2023
Category: UNB Saint John , UNB Fredericton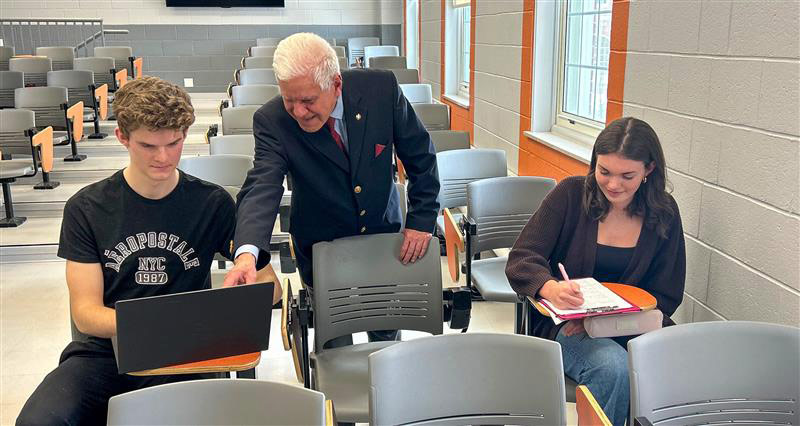 Two students at the University of New Brunswick (UNB) are among the first cohort to apply what they learn in their economics class to solve real-world issues starting as early as the first semester of their undergraduate degree.
Last fall, these students were enrolled in Dr. Constantine Passaris' principles of microeconomics course on UNB's Fredericton campus. Passaris, who was invested into the Order of New Brunswick in 2021, is a professor of economics at UNB's faculty of arts and a champion of experiential education. The Government of New Brunswick recently awarded him the Queen Elizabeth II Platinum Jubilee Medal for his extraordinary contributions to his community, New Brunswick and Canada.
Experiential education helps students to create knowledge while reflecting on their experiences
Kieran Brost, a first-year bachelor of business administration (BBA) student from Halifax, NS, was one of the students in Passaris' class last fall. He said the experiential learning aspect of the course went well, noting benefits included learning how to conduct research and use resources through the library.
He said the students voted on topics they wanted to focus on for their final research paper. They chose student financial aid and Brost shared some of his insight on the project.
"Offering more student loans is the short-term solution because it increases accessibility for everyone," said Brost. "But it's not the best solution in the long term as it increases overall student debt."
He described how there wasn't a clear solution to this complicated issue.
"In class, we discussed how consumers make decisions based on incentives," said Brost. "As consumers, students are enticed by financial incentives, such as grants. But they also need to be clear on the return on investment for attending a higher education institution. So, offering more grants while focusing on the benefits of education would be better in the long-term."
Experiential learning is customizable to every student in every faculty
When Passaris started thinking about doing an experiential component in his introductory economics class, he met several times with Dr. Sarah King, director of the Office of Experiential Education at UNB.
In the past, he wouldn't have given experiential education a second thought. He already offered an experiential learning component to his third- and fourth-year students and through his UNB travel study programs in France, Berlin and Paris.
However, Passaris was hesitant about offering an experiential learning project for his first-year students. He thought they might find it too challenging.
Despite his hesitancy, King convinced him to try it out.
"I was proven wrong," said Passaris. "Not only were the students ready for this type of learning, but they were completely engaged. They also loved it and they got good marks!"
The feedback students gave him was overwhelmingly positive.
"I tried to pick issues that affected them personally," said Passaris, explaining they also had several guest speakers, including King; UNB's Student Union president, Kordell Walsh; and a representative from UNB's financial services.
UNB students engage in authentic experiences and focused reflection to develop new understandings
Caroline Wilson from Miramichi was another first-year BBA student in Passaris' economics class. She said that none of the students really knew what experiential learning meant.
"Professor Passaris explained it a bit and told us that it would be like a research paper where we get to apply our knowledge in a non-traditional, fun way," said Wilson. "I think that sparked a fire in a lot of the students to collect and use the research and explore further."
Wilson, too, shared some insight on the project and what she would recommend for improving student financial aid.
"One solution I offered would be to subsidize university education for students because, looking at inflation in the rising cost of fees, it's becoming harder for students to obtain a post-secondary education," she said. "And it's something that's very important not just for them and their skill set, but for the greater good of society. By identifying post-secondary education as an essential good, governments would be investing in society's future."
Brost and Wilson are enrolled in the second part of the class, principles of macroeconomics, this winter. Their focus for the final experiential learning project for the term is inflation.
"I like how we are able to study inflation from a student's perspective because it gives a reflective aspect to the assignment," said Wilson. "That's something you don't see in tests. And one thing I learned from Sarah King is that reflection is one of the key components of experiential learning."
Experiential learning is both a process and a journey
With the success of this new experiential learning opportunity behind him, Passaris also took the time to reflect and is hopeful that other faculty members will consider the value of integrating experiential learning into their introductory courses.
"By giving students the ability to choose, they are buying into the process, which is part of what makes them do good work while absorbing the information," he said. "When they attend class, they have no active role and then we ask them to sit down for an exam, memorizing what they heard in class and read in the textbook. Experiential learning is a different kind of engagement.
"If we keep saying that the most effective way of transmitting knowledge is to show them how to think and make decisions, then this is an effective way of doing that," Passaris continued. "In other words, we are not just providing an education that will give you a degree after four years. We provide an education that will give you the keys to your professional and personal career for the rest of your life."
Learn more about experiential education at UNB.