UNB research team looks at big data and AI for individualized rehabilitation
Author: UNB Newsroom
Posted on Mar 29, 2023
Category: UNB Fredericton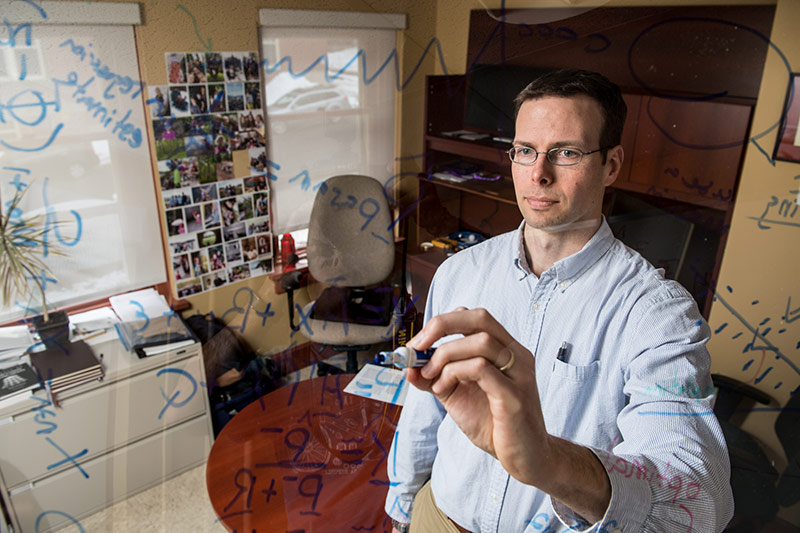 How can we use leading-edge computing techniques like big data and artificial intelligence (AI) to make life better for one person at a time?
That question has preoccupied Dr. Jon Sensinger for more than 15 years and it's a question he will ask parliamentarians to consider on March 29 at a Parliamentary Health Research Caucus event in Ottawa about AI and machine learning. This event, organized by Research Canada, is an opportunity to showcase Canadian research and raise awareness among elected officials.
"The key idea I want to share with them is that we can leverage techniques and data from large data sets to solve problems that affect small populations – or even a single person," he said. "Individuals have unique needs and goals based on everything from their personality to their occupation and hobbies to their cultural contexts. We are especially interested in leveraging massive data sets to make rehabilitation an individualized experience and process that accounts for these needs and goals."
Focusing on research in rehabilitation
Dr. Sensinger, a professor of electrical and computer engineering and director of UNB's Institute for Biomedical Engineering (IBME), is a leading, internationally recognized researcher in prosthetics and rehabilitation research. While much of IBME's 60-year history has focused on prosthetics research, Dr. Sensinger and his colleagues have been pushing that expertise in new directions in rehabilitation over the past two decades.
"I've been working on integrating artificial intelligence and prosthetic limbs since 2007," he said. "I co-founded Coapt in 2012, a company that remains the global leader in this area today. Now, I'm working on expanding our ability to use AI to help people gain or regain mobility after strokes, spinal cord injuries or other complex rehabilitation scenarios."
Dr. Sensinger uses an approach known as curious optimal control, which leverages curious (or curiosity) AI. This approach uses algorithms that prioritize discovering new inputs as well as goal matching.
"I liken it to driving a car on an icy day," said Dr. Sensinger. "You might tap the brakes or turn the wheel as you're getting started to get a feel for the road conditions and then you can use this new knowledge to improve your driving."
Though this explanation sounds simple, the approach is challenging and requires substantial research. Because these systems emphasize new information and new factors, curiosity-driven AI models can quickly spiral into unmanageable complexity. To mitigate this, Dr. Sensinger and his team have developed new, more efficient approaches for curious optimal control, in turn allowing people to use these systems to solve more complicated scenarios.
While the team's models and approaches to data may be more efficient, they still rely on access to large, complex data sets. To that end, Dr. Sensinger is working with collaborators across UNB, including the New Brunswick Institute for Research, Data and Training and the McKenna Institute, to develop a secure data trust of health information. This data trust would securely, privately and effectively house the real-world data to fuel these algorithms – all used to make life better for one person at a time.
"When we look at recovery and rehabilitation, we often assume that functional recovery is the primary goal, but this isn't always the case," said Dr. Sensinger. "A patient may have several goals for their rehabilitation and they may want to prioritize some over others.
"Similarly, both patients and practitioners have limited resources, such as time and energy, to apply to their situations," he added. "Our hope is that curiosity-driven AI will allow us to best balance these competing goals, outcomes and resources for individual cases, all while also considering the system-level ecosystem of health care."
Dr. Sensinger was nominated to share his insights by the New Brunswick Health Research Foundation, which has extensively supported his research and the broader research at IBME and UNB.