UNB engineering student project aims to protect dykelands in Atlantic Canada
Author: UNB Newsroom
Posted on Mar 27, 2023
Category: UNB Fredericton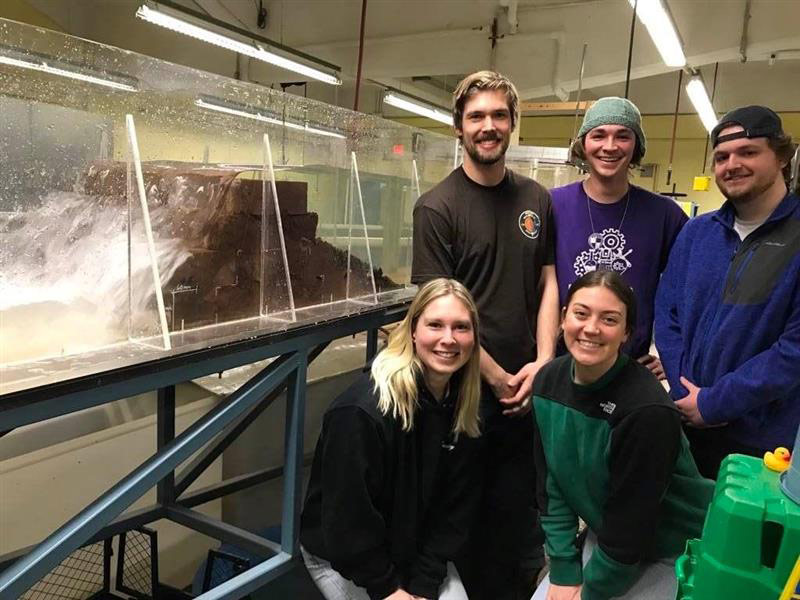 More than 300 years ago, the Acadians first designed and constructed dykelands along the Bay of Fundy in New Brunswick and Nova Scotia for flood and agricultural protection from the salty sea. Some of these dykes, which the federal government upgraded in the 1950s, are still in place today.
As global temperatures continue to increase, sea levels in Atlantic Canada also rise due to the expansion of ocean waters and melting terrestrial ice. As a result, dykelands in New Brunswick are becoming overwhelmed.
To address this issue, final-year engineering students at the University of New Brunswick (UNB) teamed up with the New Brunswick Department of Transportation and Infrastructure (NBDTI) to look at ways to protect the dykelands along the Bay of Fundy from rising sea levels.
Students Knut Lokken, Nathanial Tratnik, Matthew Taylor, Kathleen O'Connor and Samantha Bennett are testing the feasibility of an innovative dykeland construction method, which they will present at the faculty of engineering's most anticipated event, the engineering design symposium.
Regular dykeland systems use heavy machinery to pile local earth along the coasts, but these systems are weak and sensitive to disturbances. The team experimented with different additives and soil mixtures to compact the block to strengthen it.
If testing is successful, NBDTI could potentially develop the blocks along the Shepody dykelands and increase the coastal dyke height by 2 1/2 metres.
"We were constrained to use local soil because there's minimal environmental impact; it is easily sourced and readily available," said Tratnik. "We are using 98 per cent local soil and two per cent bentonite, so the majority is taken from the ocean sediment."
It is a valuable project since the corrosion of dykelands significantly impacts protecting tourism, residential, commercial, industrial and transportation infrastructure, as well as cultural amenities.
In September, the group began working on this project and functions as a mock engineering consultant company.
"This project has been a valuable experience to help prepare us for real jobs in our field," said O'Connor. "We have a client and deliverables, we log our hours and we have a cost analysis assuming that we would get paid as junior engineers."
"We've all had the chance to develop our skills a lot as well," added Tratnik. "As part of the course, we got to go to Fundy for field testing, take our samples back to the lab and work on creating designs."
The team will present their prototype at the ninth annual engineering design symposium on Thursday, March 30, 2023, at the Wu Conference Centre and virtually from 8:20 a.m. to 5 p.m.
The design symposium will showcase 45 different designs and prototypes created by final-year engineering students from all disciplines to the community for their capstone design course projects. More than half of the projects are sponsored by external clients where students are mentored by practicing engineers.
The engineering design symposium is free of charge and open to the public. Registration is required.