Students gain experiential learning at field school in Sipp Bay, Maine
Author: UNB Newsroom
Posted on Feb 16, 2023
Category: UNB Fredericton , UNB Saint John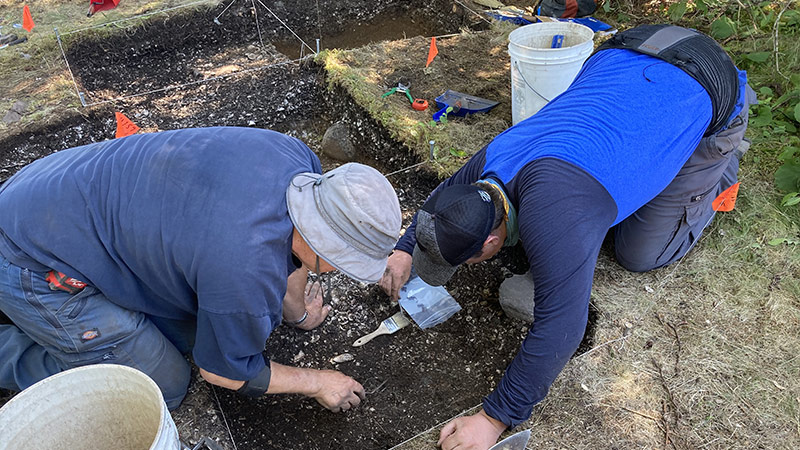 University of New Brunswick (UNB) students have access to the region's premier archaeological field school thanks to UNB's support for experiential learning, which makes the program accessible for all.
UNB and the University of New England (UNE) created the Downeast Coastal Archaeology Field School to investigate the cultural transitions among coastal hunter-gatherers from ca. 2,200 years ago to European contact.
The field school occurs at two eroding Indigenous coastal sites in Sipp Bay, Maine. The sites provide an opportunity to learn about Wabanaki lifeways before European contact. In addition, the project emphasizes collaboration with Wabanaki communities and provides students with opportunities to develop their research interests.
Participants in the field school receive instruction in archaeological methods such as the following:
Excavation techniques
Surficial and intertidal survey
Basic photography
Mapping
Record keeping
These are important skills not only for students who plan to pursue archaeology in graduate school but also for those pursuing employment in cultural resource management archaeology, a field projected to see unprecedented growth in North America in coming years, according to the Society for American Archaeology.
UNB's office of experiential education helps strengthen, support and grow UNB's experiential learning opportunities
"The Downeast Coastal Archeology Field School is a fantastic example of the innovative experiential learning opportunities students can receive at UNB," said Dr. Sarah King, UNB's director of experiential education. "Opportunities like field schools give students a chance to see their classroom learning in action and take part in meaningful and valuable work that will impact not just them, but the communities they interact with as well ."
All UNB students who participated in the field school had their room and board expenses covered through generous support from Future NB funding distributed by UNB's Office of Experiential Education.
"We had a very productive field season," said Gabriel Hrynick, associate professor in the anthropology department on UNB's Fredericton campus. "In addition to the hands-on learning during excavation, we worked on other experiential learning, including a tour of significant sites in the area by the Passamaquoddy Tribal Historic Preservation Office, a decolonization-focused visit to the Abbe Museum and trips to area archaeological sites."
"We also integrated UNB librarians into data management training at the point of collection, a novel thing for field schools," he added. "Visiting faculty included folks from UNB, University of New England, Dartmouth College and the Canadian Museum of History."
A world of opportunities beyond the classroom
The students who participated in the field school say they feel prepared for the workforce and that the work they completed made a real difference.
In the final year of her undergraduate degree, Kathleen Martin participated in the program last summer.
"Learning theory in the classroom is one thing, but learning how to apply it hands-on is another," Martin said, describing her highlights of the school with two excavation pits. The more eastern one was a suitable environment for animal remains because of the calcium carbonate from shells. We were able to determine their diets and what they [ancestral Wabanaki people] were eating. We also found remnants of a bear, cod and fish vertebrae, a seal skull piece, beaver teeth and a worked antler made into a tool."
Dawson Burnett, a fourth-year student from Maine, also participated in the field school last summer. He explained what a typical day was like.
"Every day, we would attend workshops on surveying, laying out a map of the site and putting it in a grid form," Burnett said. "We also attended guest lectures every night, went on field trips to places like the Wabanaki Culture Center and Museum in Calais and St. Croix Island National Park, and we even got to witness a tv shoot for an episode of Nature of Things!"
Emily Draicchio worked as a teaching assistant at the field school. She is in the second year of her MA in history at UNB.
"The other field schools I've attended were lab-based," she said. "The people at UNB's field school were great. Everyone had a positive attitude, and the experience equipped me with the skills I need to pursue my research and apply for my Ph.D. I even got certified with the Register of Professional Archaeologists (RPA)."
The experiential opportunities at the Downeast Coastal Archeology Field School help students enter the world of work and prepare them for the future. Students can now apply for the next intake for the field school, which takes place July 5 to 25, 2023.
Learn more about experiential education at UNB.