UNB business students win at 2023 Apex Business Plan Competition
Author: UNB Newsroom
Posted on Feb 13, 2023
Category: UNB Fredericton , UNB Saint John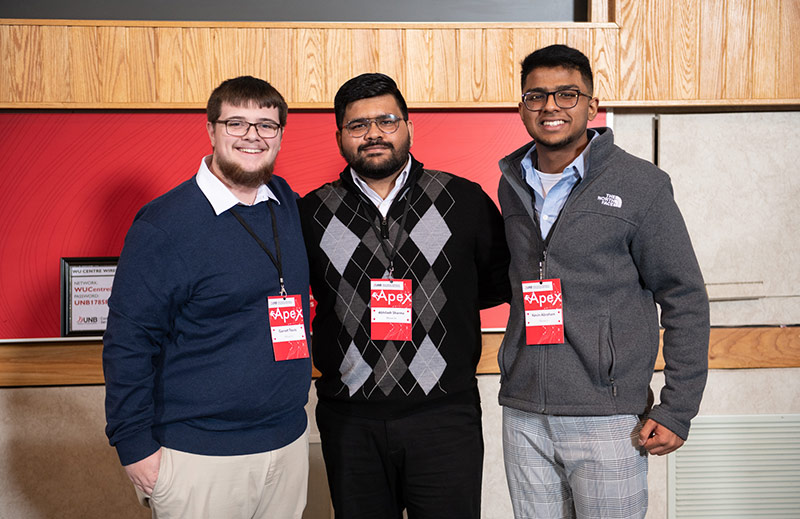 Business students from the University of New Brunswick's (UNB) Fredericton campus were among the winners of the 2023 Apex Business Plan Competition on Jan. 26 and 27.
The competition was created by UNB's International Business & Entrepreneurship Centre to challenge participants to be innovative and creative as they develop, direct, organize and present a business plan or new venture to a panel of judges and mentors.
UNB announced last month that the Bank of Montreal (BMO) pledged $500,000 to sponsor the BMO APEX Business Plan Competition for 10 years, starting in 2024. This continues UNB's partnership with BMO in recognizing entrepreneurial excellence.
The two-day 2023 Apex Hybrid Competition allowed 69 participants and 29 teams to take part from anywhere in the world. Participants originated from New Brunswick, Nova Scotia, Ontario, Quebec, Alberta, Manitoba, Texas, Benin and Ghana.
Second-year UNB bachelor of business administration (BBA) student, Kevin Lauren Abraham, described his experience winning second place ($4,000) in the New Venture Track for Apex 2023 as stunning.
"We met other talented entrepreneurs, and it showed us the value of encouraging business ideas from students," he said. "The way people produced solutions to problems that we deal with regularly was mind-blowing. That competitive spirit just boosted my energy. It was exciting to be there."
Abraham and his teammates, Abhilash Sharma (MBA '22), Garrett Travis, a first-year building engineering student at the New Brunswick Community College (NBCC) and Abhishek Sharma, a fourth-year electrical engineering student at Thapar University), created Move-In.
Move-in is a platform that provides financially viable solutions to the hassle of finding a roommate, finding a new place to stay and finding quality furniture for your living spaces.
Aside from the cash prize, Abraham listed other benefits to participating in Apex 2023.
"They linked us up with the computer science department so we could source students to work on the software," he explained. "We were also given information about grants that we could apply for. It was exciting to make connections like that and extend our reach and network with people in the industry."
Last semester, first-year BBA students learned the fundamental skills to create an entrepreneurial venture and develop a pitch deck, financial model and written business plan. Six teams took that knowledge and competed at Apex 2023.
First-year BBA student Rukeme Akalusi, and her team members, Skylar Soh and Leen Abu Al-Sha'r created Otium. Their idea won the Business Administration Undergraduate Society (BAUS) Business Planning and Entrepreneurship Award ($500) for the best business project for a UNB ADM 1192 Business Plan and Entrepreneurship team and second place ($500) in the elevator pitch competition, out of 29 teams.
Derived from the Latin word meaning ease, Otium combines the function of a charger, an international adapter and a power bank for multi-devices regardless of their brand. It also has a smart Artificial Intelligence (AI) system to cut off the charging automatically when it detects that the battery is fully charged.
Akalusi said Apex 2023 was a terrific opportunity to share her work with like-minded individuals and people in the business community.
"Being part of this competition is an experience in and of itself," she said. "The competition was exciting, and we met a lot of people who encouraged us to move forward with our idea."
Evan Despres and his fellow first-year students, Ellie Clair, Madeleine Desrochers and Kieran Brost, won third place ($250) in the elevator pitch competition for their idea, Kicks Clip.
Kicks Clip is a shoe clip that can attach to the outside straps of your bag and carry your shoes (or alternative items).
"With this, we hope to alleviate the issues of storage and odour while also letting you show off your kicks to family, friends and teammates alike," said Despres, who described how he felt about the experience. "I am not sure we will continue with the idea beyond the competition, but it was overall a rewarding experience."
Learn more about the Business Plan Competition.