UNB Saint John's Promise Partnership celebrates 10 years
Author: UNB Newsroom
Posted on Nov 26, 2020
Category: myUNB , UNB Saint John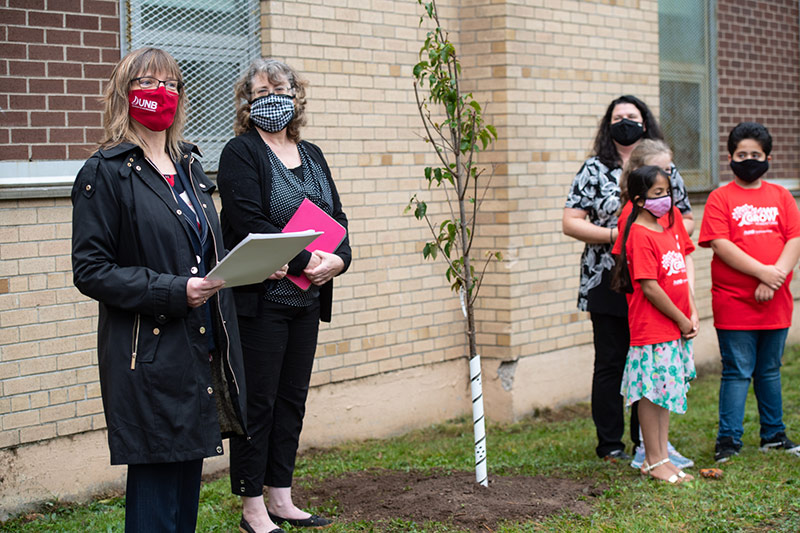 As UNB Saint John's Promise Partnership marks its 10th anniversary, former participant Kendra Eatman is reflecting on her experience with the program.
Since its inception in 2010, the Promise Partnership has provided educational support and opportunities to hundreds of Saint John youth. The initiative works to close the educational attainment gaps associated with low socio-economic status, while providing volunteering opportunities for UNB students.
From kindergarten to Grade 12, children are mentored through its various programming, including the Student Mentoring Club, High School Tutoring Program, Summer Reading Program, and supplementary programming.
Eatman joined the Promise Partnership's High School Mentoring Program when she was in Grade 9, attending two tutoring sessions a week for four years until she graduated high school. She now works as a nurse on a neurological ward at the Saint John Regional Hospital and, as the Promise Partnership marks its 10th birthday, she's considering the impact that being part of the program has had on her life and career.
"I attended tutoring sessions with the Promise Partnership every Monday and Wednesday during the school term from when I was in Grade 9," says Eatman. "I had fairly average grades before I joined the program. I was living in the Crescent Valley area of the city when I heard about the Promise Partnership and I thought it would be good to have extra help and support.
"Once I started my grades got better and I eventually took AP classes because I had improved so much," she says. "I had a lot of anxiety, especially around tests, and got a lot of support from my tutors. They would check in with me after tests to ask how I made out; it was great to be able to tell them I got an A.
"I knew throughout high school that I wanted to have a career in healthcare and it was the Promise Partnership who helped me to define my goals, and also told me about the UNB nursing program," says Eatman. "They were so supportive of me; being in the program is like being part of a family. I asked them to help me with my application to give me the best chance of succeeding. UNB's program was my first choice and I managed to achieve my goal and was offered a place.
"I was also awarded an Emera Promise Partnership Bursary which was very helpful. It took the financial stress out of university and I was able to focus on studying. It also meant that I left university with a manageable amount of debt that I have already been able to pay off.
"The tools that the Promise Partnership tutors gave me when I was at school helped me throughout university," she says. "How to manage my time, how to focus and how to prioritize were techniques that I used whilst in the nursing program.
"I want to say thank you to the Promise Partnership," says Eatman. "They helped me realise my goals and made me feel supported every step of the way."
Media contact: Kelsey Pye
Photos: A tree-planting ceremony, held in October at Hazen White-St. Francis School, to mark the 10th anniversary of the UNB Saint John Promise Partnership and honour those who support the program. Credit: Rob Blanchard/UNB