UNB to present professors emeriti rankings, teaching and research awards at fall convocation
Author: UNB Newsroom
Posted on Oct 23, 2020
Category: UNB Fredericton , UNB Saint John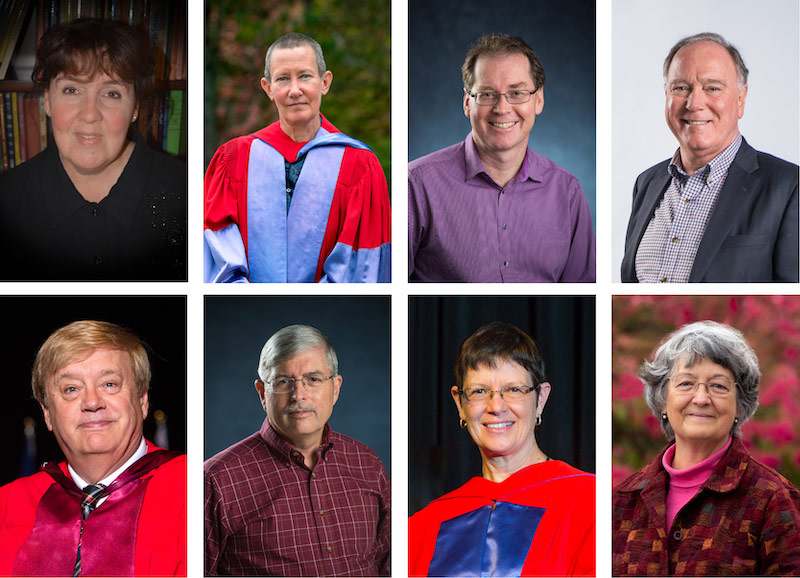 The University of New Brunswick will honour three outstanding individuals for their accomplishments and commitment to teaching and research at its virtual fall convocation ceremonies on Saturday, Nov. 7.
UNB will also be awarding Professors Emeriti distinctions to five of its retired faculty members.
Excellence in Teaching Awards
Two UNB Saint John faculty members will be recognized with Dr. Allan P. Stuart Memorial Excellence in Teaching Awards.
Moira A. Law
Dr. Moira A. Law began teaching in the department of psychology at UNB Saint John in 2004. She is the recipient of a Departmental Award for Excellence in Teaching (Psychology), a UNB-SRC Excellence in Teaching Award, and was recognized as a Graduating Student Leadership Award High Impact Mentor.
Lucy Wilson
A geoarchaeologist, Dr. Lucy Wilson came to UNB Saint John first in 1988, and then to stay in 1995, and is a professor of geology in the department of biological sciences. She is the recipient of a Faculty Excellence Award in Teaching and Departmental Awards for Teaching Excellence for both the departments of Biological Sciences and Physical Sciences. She was a University Teaching Scholar from 2014 – 2016.
Award for Excellence in Research
The UNB Award for Excellence in Research honours faculty who are representative of outstanding research, scholarly, or creative achievements at the University of New Brunswick. It promotes and celebrates an environment that supports intellectual inquiry and discovery.
Bruce Balcom
Dr. Bruce Balcom joined UNB Fredericton's department of physics, in the faculty of science, in 1993. He won a UNB Merit award in 1996 and was an NSERC Steacie Fellowship winner in 2000. He has held a Tier 1 Canada Research Chair in Magnetic Resonance Imaging of Materials since 2002. He was the chair of the international society devoted to his research specialty from 2013-2017.
Professor Emeriti Distinctions
The honorary rank of professor emeriti is awarded to those retired professors who have served the university with great distinction.
David Coleman, professor emeritus in geodesy and geomatics engineering
Dr. David Coleman worked at UNB in the department of geodesy and geomatics engineering since 1993. From 2003 to 2014, he served as department chair and then as dean of engineering for two terms. He has been both a member of the UNB Senate and Board of Governors.
Dr. Coleman is a highly involved member of both the national and international engineering communities, and is a Fellow of the Canadian Academy of Engineering, Engineers Canada, and the Royal Canadian Geographic Society.
Bruce MacDonald, professor emeritus in biological sciences
Dr. Bruce MacDonald has successfully filled many roles at UNB Saint John: departmental chair, associate dean and acting dean of graduate studies, and acting dean of the faculty of science, applied science and engineering. He is considered one of the principal architects of UNB Saint John's marine biology program.
Dr. MacDonald's teaching, research and administrative accomplishments are broad and deep. He is a pillar at UNB and is widely recognized as accessible, fair, knowledgeable, wise and innovative.
Alan Sears, professor emeritus in education
Dr. Alan Sears was a professor at UNB's faculty of education for more than 35 years. Throughout the tenure of his highly successful career, he has been the recipient of numerous awards, including UNB's President's Medal in 2019.
Dr. Sears's most significant area of impact and contribution is in curriculum, policy, and practice in Citizenship Education and History Education. He has an outstanding record of national research grants, is widely published, and his work is regularly cited.
Ruth Shaw, professor emerita in computer science
Dr. Ruth Shaw is the former dean of science, applied science and engineering in Saint John. Her accomplishments are numerous: research success, teaching and merit awards, mentoring graduate students, and transforming her faculty.
As project lead, Dr. Shaw was essential to the success of the Health Research & Programming Initiatives Project at UNB Saint John. She demonstrated exemplary leadership and made a pivotal contribution to the transformation of the university and the Saint John campus.
Melanie Wiber, professor emerita in anthropology
Dr. Melanie Wiber is an internationally recognized economic and legal anthropologist. She began teaching at UNB in 1987 and has held the position of professor of anthropology since 1995.
Dr. Wiber has been an executive of the International Commission on Legal Pluralism since 1999, and currently serves as Associate Editor for the Journal of Legal Pluralism. She has received two Merit Awards from UNB, as well as a Research Professorship.
Media contact: Kelsey Pye