Connecting students with sustainable experiential educational experiences
Author: UNB Newsroom
Posted on Oct 13, 2020
Category: UNB Saint John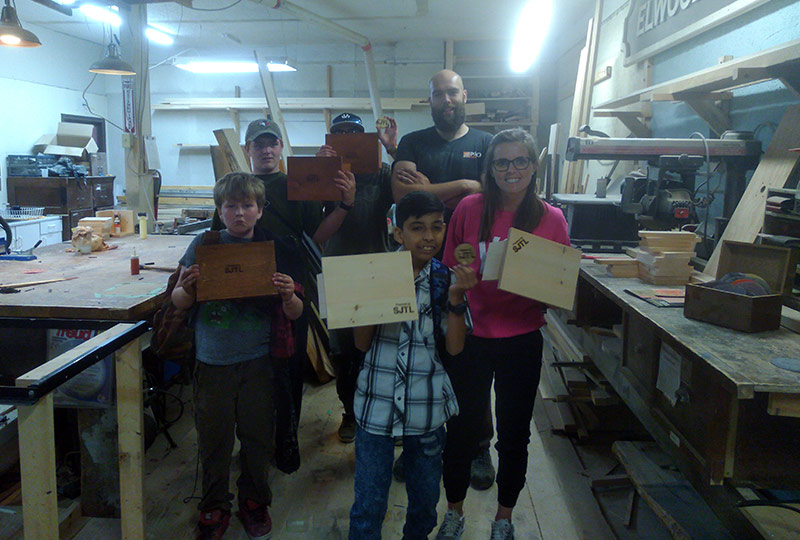 A University of New Brunswick student in Saint John was one of many who participated in experiential learning programs during the summer, making a major impact for community groups and leading the way toward a sustainable future.
With support from the Office of Experiential Education's many funding programs, students from all faculties and disciplines were able to partner with local organizations where they gained valuable work experience and contributed their talents to the organization's goals.
Ben Kelly, a student from the faculty of arts at UNB Saint John, worked with the Saint John Tool Library (SJTL) as part of his Arts 3005 internship. The organization makes tools available for rent, provides a workspace for DIY projects and offers classes to their members. In recent years, they have also worked with other community groups on community builds to improve the homes in Saint John.
"Tool libraries are ideas from the future," says Brent Harris, founder and director of the SJTL. "We know that to address the climate crisis, we need alternative ways of addressing our needs. Tool libraries create spaces for us to source the things we need temporarily rather than having to buy them. From a screw driver to pressure canners and power tools, they will help us address the issue of over consumption, which is destroying our planet."
Mr. Kelly's role with the organization was to conduct a high-level research connection project that the organization will use to continue to advocate for and show the value of tool libraries within communities.
"The Saint John Tool library is an important community asset. It allows people to inexpensively borrow tools, which can be used for DIY projects, home improvements, and more," says Mr. Kelly. "I conducted a qualitative impact study that included researching social development, DIY, housing and other community impacts. This was accomplished through a survey and semi-formal interviews. Results showed that people agreed that the tool library was a valuable community asset.
The project also showed that people recognized the impact tool libraries have on the environment by reducing the number of tools needed and empowering people to repair their things rather than buying new ones.
Mr. Kelly speaks highly of his time with SJTL.
"Besides some of the primary benefits it offers to members of the community, the Saint John Tool Library acts as a community hub where folks can build friendships and share knowledge amongst each other. I believe that if more people were aware of the benefits the tool library facilitates, un-invested and impoverished neighbourhoods could steadily revitalize themselves."
"Ben approached this entire endeavor with a crazy amount of energy and enthusiasm. We were so lucky to get paired with him on this project," adds Mr. Harris.
Dr. Sarah King, UNB's director of experiential education, says that contributing to community sustainability is one of the ways experiential learning can have a major impact on students and community partners.
"Experiential learning is one of the pedagogies demonstrated to increase students' civic knowledge and participation, and to contribute to the well-being of communities. At UNB, we have programs in every faculty that connect students with their communities to engage in this essential and important work, bringing UNB's knowledge and skills off campus and into the community."
Join UNB in celebrating its third annual Sustainability Week from Oct. 12-16. For full details and event schedule, see unb.ca/sustainabilityweek.
Media contact: Angie Deveau
Photo: Brent Harris and a group of students visiting the Saint John Tool Library in 2019. Credit: Brent Harris.