Celebrating UNB's 2020 Graduates
Author: UNB Newsroom
Posted on Oct 29, 2020
Category: UNB Saint John , UNB Fredericton
The University of New Brunswick will celebrate the accomplishments of its almost 600 fall graduates at virtual graduation ceremonies on Saturday, Nov. 7. UNB is proud of the 288 students receiving their bachelor's degrees, the 293 earning master's degrees and 17 achieving the highest level of academic achievement, the PhD.
At the ceremonies, significant graduate awards will be announced, with the complete list at unb.ca/graduation. Kelly Chaves, graduating with a doctorate in history, will receive the Governor General's Gold Medal. This medal is awarded to the student who achieves the highest academic standing at the graduate level. Phillippa Wennberg will receive the Lieutenant-Governor's Silver Medal for Education. This medal is awarded to the top graduating student in the faculty. Both recent recipients completed their studies on the Fredericton campus.
"I wish to congratulate all recipients of the Lieutenant Governor of New Brunswick Silver Medal Award, whose perseverance and hard work are being recognized," said The Honourable Brenda Murphy, ONB, Lieutenant-Governor of New Brunswick. "It is inspiring to hear of the achievements of so many bright, young minds in this province. The skills you have developed throughout your undergraduate degree form a solid foundation from which you can continue to grow and reach your objectives. Although the convocation and awards ceremonies will take on a different look this year, I hope you will celebrate your accomplishments with pride. Once again, congratulations."
UNB graduates come from far and wide and have unique stories to share. Two members of this graduation class sharing their journeys are Milia Aidemouni and John LeRoux.
Milia Aidemouni
Milia Aidemouni's story is one that gives perspective to life as we know it in North America. Moving to Canada in 2015 as a newcomer from Syria, Aidemouni faced social, cultural and academic barriers, none of which stopped her from achieving excellence at UNB. She currently holds a bachelor of science in biology-psychology, with a minor in chemistry and statistics (2019), and at the fall ceremony, Aidemouni will graduate from the Saint John campus with her master of science in biology.
When Aidemouni moved to New Brunswick to begin her studies, she left her life in Syria behind to begin anew. Living in Syria, she faced the horrors of war and poverty. She saw innocent children and adults take their last breaths. Some nights, her family was kept awake by the sound of guns and bombs, and people screaming. The hopelessness was overwhelming, but fueled her commitment to do the right thing. These experiences forced her to be brave and resilient, giving her strength she needed to make a difference in newcomers' lives who have treaded similar paths. In 2016, she became the leader of the Newcomer Youth Civic Engagement initiative in Saint John, promoting health, diversity and inclusion to students and community members by sharing her story of survival and through leading projects. As a result, Aidemouni received the Wellness Champion Certificate from Fundy Wellness and the Diversity Champion Award from PRUDE Inc.
During her time at UNB, Aidemouni attended many academic and leadership conferences, sharing her research at the Science Atlantic Environment Conference in Nova Scotia and the Canadian Society of Ecology & Evolution Joint Meeting in New Brunswick. In 2019, she received an Undergraduate Research Award for her research presentation, placing second. In 2020, as a result of the COVID-19 pandemic, she participated in the Three Minute Thesis Challenge at UNB where she was recognized for effectively communicating and explaining her work's significance to a non-specialist audience.
Aidemouni was on the dean's list twice and has been a teaching assistant, co-supervisor of undergraduate students, and a research assistant in the department of biology. She strongly believes in giving back to her community and has been a Promise Partnership tutor, a research assistant at both Dalhousie Medicine New Brunswick and the Saint John Regional Hospital's Emergency department, and a volunteer at the YMCA's Y Newcomer Connections program.
John LeRoux
For multi-hyphenate John LeRoux, it was inevitable that he would one day study at the University of New Brunswick. A historian, architect, author, educator, and the Manager of Collections and Exhibitions at the Beaverbrook Art Gallery, LeRoux's history and interest in the university runs deep.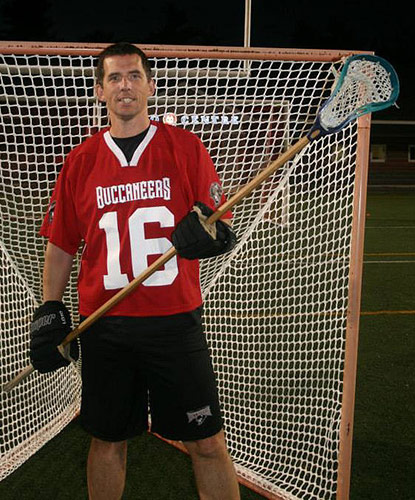 A resident of Fredericton, he holds a bachelor of architecture from McGill University (1994), a master in art history from Concordia University (2002), and most recently, a doctor of philosophy in history from UNB (2020).
LeRoux started his PhD in history in September 2014. This represented not just the beginning of a new academic journey, but also served as a turning point in his recovery from a life-threatening car accident he had survived several years earlier.
Having spent the first three months after the accident in hospital, and another year in a wheelchair, LeRoux worked hard to recover his mobility in the years that followed. His road to recovery was long, but when he began his studies at UNB, he reached a major physical milestone by joining UNB's newly inaugurated lacrosse team.
As a kid, he played the sport with his peers; at 43, he was playing with the children of his former teammates. For LeRoux, this experience was a reminder that if you work hard, you can achieve what may have once seemed impossible.
His relationship with UNB is atypical in that his connections to the university were formed long before he was a student: The story begins with his parents meeting at UNB and graduating from their respective programs in 1966. Years later, once he returned to New Brunswick after completing his undergraduate and graduate degrees, and after a brief stint working in the US, he dove head-first into the UNB community. First by serving as an adjunct professor at Renaissance College for three years in the early 2010s; later, as an adjunct professor in the Technology Management and Entrepreneurship program in the faculty of engineering, where he played an integral role in the development of the Summer Institute. In 2017, he co-taught the university's summer course in Rome.
He has played, and continues to play, a significant role in celebrating the visual art and architecture of UNB and New Brunswick throughout a number of his 14 published books, including Building a University: the architecture of UNB (2010), and Glorious Light: the stained glass of Fredericton (2011), in which the stained glass in Memorial Hall and Howard Douglas Hall are featured.
LeRoux remains invested in the architecture and historic preservation of the university and has been a member of UNB's Art for Public Spaces Committee since 2014, helping to bring art and beauty to the campus, and assisting with the restoration of spaces across the university.
Two book ideas have already been borne from his doctoral thesis, Make Way for Tomorrow: New Brunswick's Visual and Cultural Modernity, 1930-1967. Currently, he is collaborating with Sackville, N.B., photographer Thaddeus Holownia. It features the architecture of Saint John and is due for publication in the next several years.
Media contact: Kelsey Pye