UNB receives Canadian Space Agency funding to enhance space science equipment
Author: UNB Newsroom
Posted on Sep 2, 2020
Category: UNB Fredericton , myUNB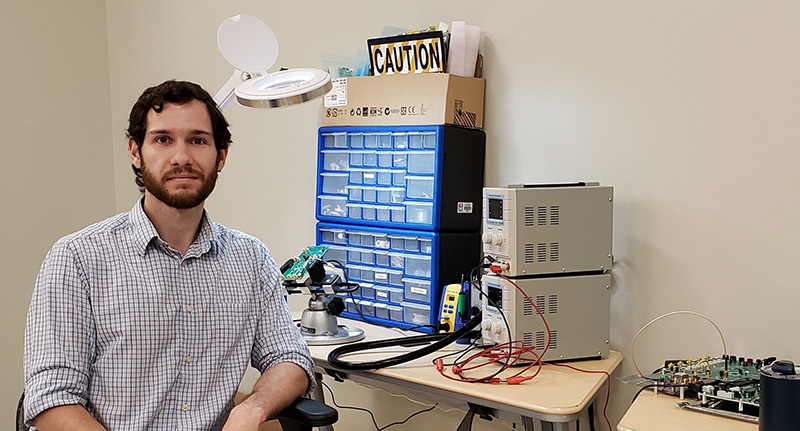 The University of New Brunswick has been selected by the Canadian Space Agency (CSA) to develop and install a new space weather monitoring instrument in the Canadian Arctic. It has been awarded $300,000 from the agency for the project.
The device, a high-frequency radar known as a Modular Ionospheric Sounder, is intended to be deployed in harsh, remote environments like the Arctic or space. It will improve on existing technologies by providing better ionospheric measurement capabilities while reducing power consumption. Ultimately, the project's goal is to create a proven and deployable instrument ready for use in space and other missions.
The three-year research project was awarded to the physics department at UNB in Fredericton and will be overseen by Dr. P.T. Jayachandran, professor, physics department chair, and principal investigator of the Canadian High Arctic Ionospheric Network.
"In a technology-dependent society like ours, space-based systems play an increasingly vital role," said Dr. Jayachandran. "Therefore, improving current technologies and inventing new ones to accommodate ever-changing needs for capacities and precision is crucial. This project will help us improve communications and navigation systems, while also providing a unique and exciting hands-on experience for the next generation of researchers and specialists."
The project is funded by the CSA's Flights and Fieldwork for the Advancement of Science and Technology (FAST) initiative. FAST supports research that contributes to the development of new scientific knowledge and space technologies while providing opportunities for students to acquire hands-on experience in space-like missions.
Graduate and undergraduate students at UNB will be involved in the research and development of the complex hardware and software required for this instrument and will participate in its installation in Resolute, Nunavut.
"This device addresses some of the challenges faced when operating in the Arctic, including geography and operating cost," said Aaron Farnham, a radio systems developer at UNB who will lead the design and development process. "It will also open up research opportunities for graduate students in the areas of empirical modelling and advanced measurement techniques, and will provide a versatile platform for future space weather research."
The new device will be part of UNB's existing Canadian High Arctic Ionospheric Network, a network of 25 research sites located across Canada's Arctic, with one additional site in New Brunswick.
Each of the Arctic installations monitors conditions in the ionosphere, a layer of the atmosphere in which solar radiation interacts with molecules in the atmosphere. Because of this, the layer is important both for space science, as a critical point in the sun's interaction with the Earth, and for science and technology that rely on radio communications. This field is a major research focus in UNB's physics department.
Media contact: Jeremy Elder-Jubelin
Photo: Aaron Farnham, a radio systems developer at UNB, will lead the design and development process for the newest device an Arctic ionospheric data collection network. Credit: UNB.