Catalyst participants assist businesses with COVID-19 recovery
Author: UNB Newsroom
Posted on Sep 16, 2020
Category: UNB Fredericton , UNB Saint John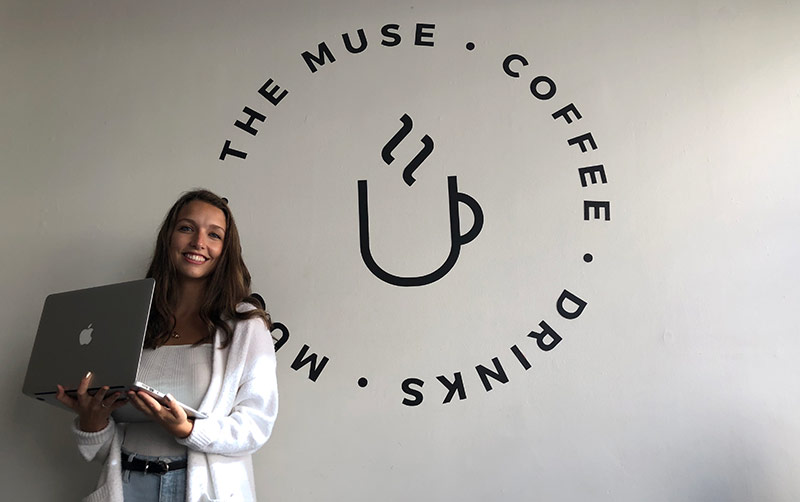 Student participants in the University of New Brunswick's Catalyst program saw great success over the summer of 2020.
Catalyst, supported with funding from the Province of New Brunswick, the ICTC WIL Digital program and the Mitacs Business Strategy Internship program, was designed to support communities as they adapted to and recovered from the COVID-19 pandemic. It gave New Brunswick businesses access to some of UNB's brightest and most talented students for assistance in immediate COVID-19 recovery and long-term strategy development.
To participate in the program, businesses were required to submit projects related to COVID-19 recovery. Students were hired by the Catalyst program to provide expertise at no cost to partnering businesses.
"We had 48 students working with 32 different businesses on a variety of projects from researching funding opportunities, to supporting recreation in assisted living facilities, to developing new methods of clothes shopping using AI," said Dr. Sarah King, director of UNB's Office of Experiential Education.
"These opportunities allowed students to put the skills and knowledge they were learning in their degree programs at UNB into practice, while directly supporting local businesses and communities through COVID-19 recovery. The overwhelming response to the program told us that this was a valuable and much-needed program and I'm proud that UNB was able to step up and support our students, our local businesses and our province."
"The Catalyst program gave me the opportunity to apply my academic knowledge to the struggles businesses have faced as a result of COVID-19," said Annaka Roscoe, a third-year Renaissance College student at UNB Fredericton and Catalyst program manager. "Being able to become more involved with UNB and my community was an incredibly rewarding experience."
Kathleen Murray, a fourth-year business administration student on UNB's Fredericton campus, was hired by the Tipsy Muse Cafe. "Tipsy Muse wanted a student to help step up their e-commerce presence because the in-person cafe experience was negatively affected by the pandemic," she said.
"My role as their Catalyst student was to work with their creative team to develop new website features. I added a tours portion to their website, a COVID-19 operational plan, and I also worked on getting their products online for purchase."
"The best part about the experience was feeling like I was doing something meaningful for the business," she added. "Working with a small business was a new experience for me and it was great having lots of responsibility and creative freedom. I learned new things in areas I didn't think I would, like coding and website analytics."
Krista Touesnard, owner of the Tipsy Muse Cafe, was impressed by the calibre of work completed by her Catalyst student. "Kathleen did so much in so little time," she said. "She was extremely professional and her communication skills were excellent. Most importantly, her problem-solving skills and innovative thinking capabilities allowed us to build up our e-commerce platform to a whole new level."
Maria Tofowomo, an MBA student at UNB Saint John, worked with The Flint, a revenue accelerator program based out of Ontario.
"The Catalyst program provided the golden platform to support talents and employers as we adjusted to the new normal," said Tofowomo. "It was an honor to be matched with industry leaders at The Flint as an MBA intern working remotely. I thoroughly enjoyed the experience to learn and impact, while delivering valuable techniques to help businesses think differently and be accountable to the community at large. It starts with me."
Nicole Kemp, a partner at The Flint, thought that Tofowomo was a tremendous asset during her Catalyst internship. "Maria was able to very effectively deploy many of the models and tools learned during her MBA program to lead research and innovation projects for our clients," said Kemp. "She was a hard worker, with excellent communication skills, and we were thrilled to have her as part of the team."
Dr. King added that while the official Catalyst program is now over, they are still doing some programming throughout Fall 2020. "We are using the Catalyst name to highlight opportunities that support COVID-19 recovery happening within our already established experiential learning programs," she explained. "We have students continuing with The Tipsy Muse and five new students are joining 3D Planeta's 2Metre.Org project."
As always, UNB continues to provide world-class opportunities that bridge learning with experience – proving that their students can bring both professionalism and expertise to a wide range of professions. Catalyst is just one of the many successful programs that help UNB students build the skills they need to succeed in a competitive workforce.
Media contact: Angie Deveau
Photo credit: Joy Cummings