University of New Brunswick advances new technology to help protect North Atlantic right whales
Author: UNB Newsroom
Posted on Aug 17, 2020
Category: UNB Saint John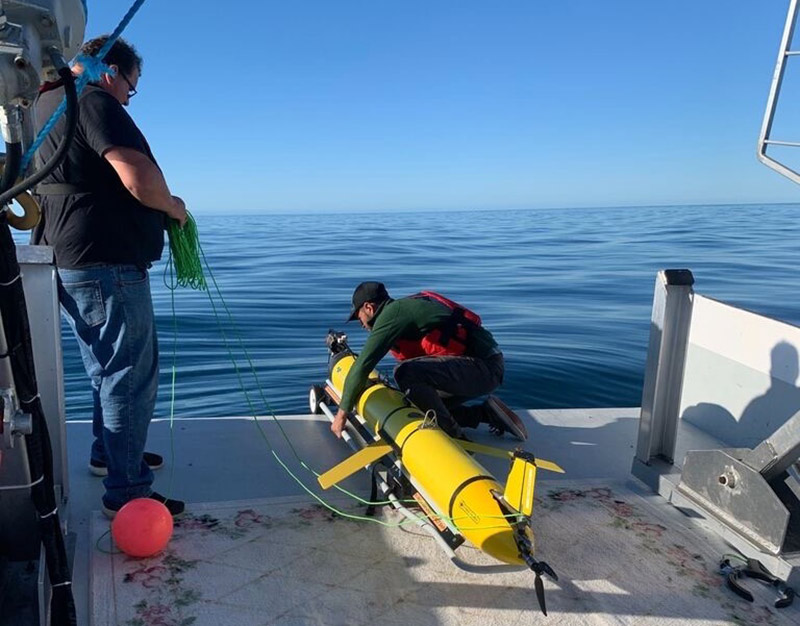 The University of New Brunswick, with the support of Transport Canada, is advancing new proven technology to improve the detection of North Atlantic right whales in part of the shipping lanes in the Gulf of St. Lawrence.
Due to the success of its 2019 pilot project, a UNB research lab has launched an underwater acoustic glider that will enhance the surveillance and monitoring of North Atlantic right whales.
This initiative, led by Dr. Kimberley Davies from the UNB Saint John campus, uses an autonomous underwater glider equipped with a digital acoustic monitoring device to detect several species of large whales in the Laurentian Channel shipping lanes, between Anticosti Island and Cape Breton Island, in the Gulf of St. Lawrence.
The underwater glider will listen to and report on the calls of blue, sei, fin, humpback and North Atlantic right whales in near-real time using technology developed by the Baumgartner Lab at the Woods Hole Oceanographic Institution. These detections will be transmitted to shore every few hours, where they will be validated by a trained analyst. Validated detections will be disseminated via automated systems, including the publicly accessible WhaleMap.
Piloting underwater gliders in shipping lanes present unique operational challenges due to the need to avoid passing ships and make headway against currents. So far, the underwater gliders have proven up to the task and are able to maintain their navigational path in this high-current environment. Researchers will take this opportunity to further study the performance of underwater gliders in this area.
"The gliders performed really well in a pilot study in the Honguedo Strait in 2019. Based on those results, Transport Canada is incorporating gliders into its operational dynamic shipping management to reduce strike risks to right whales," says Dr. Davies. "The data we collect will allow us to measure the presence of endangered whales in and around the shipping corridor, and the technology will at the same time support ship collision mitigation efforts."
"The Government of Canada is committed to ensuring the North Atlantic Right Whale's protection, conservation, and recovery. Working with the University of New Brunswick allows us to leverage unique Canadian expertise in order to expand our North Atlantic right whale monitoring measures. This underwater acoustic glider will complement our efforts to protect this iconic but endangered species in areas that need it the most," says Minister of Transport, the Honourable Marc Garneau.
Since 2017, visual surveillance from airplanes and boats have been the main source of real-time North Atlantic right whale monitoring data, but they can be impacted by adverse weather conditions. Autonomous platforms, such as underwater gliders, are resilient to variable weather and make an important addition to the monitoring toolbox.
Confirmed detections of endangered North Atlantic right whales made by the underwater glider will add to measures in place by Transport Canada that help further protect these marine mammals. This will be the first time that underwater gliders have been used in this way to reduce the risk of vessel collisions with whales in Canada.
The research team is comprised of Canadian and American researchers, including scientists and technicians from UNB, Dalhousie University, Woods Hole Oceanographic Institution, the Ocean Tracking Network, the Marine Environmental Observation, Prediction and Response Network, and Teledyne Webb Research. Transport Canada's Innovation Centre is supporting the three-month deployment.
Media contact: Kelsey Pye
Photo: Ocean Tracking Network technician Alex Cerra preparing to launch an underwater glider, which will be used to detect right whales in the Gulf of St. Lawrence. Credit: Ocean Tracking Network.