UNB TME start-up disrupts blockchain and cryptocurrency analytics
Author: UNB Newsroom
Posted on Aug 28, 2020
Category: UNB Fredericton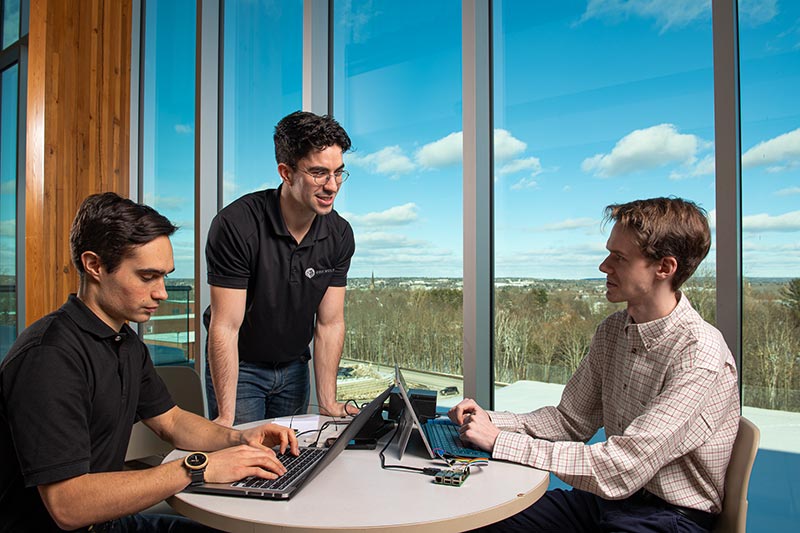 Born out of the University of New Brunswick's Technology Management and Entrepreneurship Centre (TME) in February of 2019, Gray Wolf Analytics has since begun to transform the world of blockchain and cryptocurrency analytics.
Initially, Dr. Dhirendra Shukla, chair of the J Herbert Smith Centre for TME sold student entrepreneurs on the need to help financial and intelligence organizations understand and manage the rapidly evolving landscape of virtual transactions on cryptocurrencies. Inspired by the work of student entrepreneurs in finding a solution to the problem, Dr. Shukla joined Gray Wolf Analytics as co-founder and CEO.
In today's digital and changing financial environment, there is a strong need to bring more visibility to the flow of virtual transactions on cryptocurrencies in order to protect against criminal activity. Using artificial intelligence, Gray Wolf Analytics mitigates risk to financial organizations and cryptocurrency exchanges by identifying and eliminating criminal activity on cryptocurrencies used.
Unassociated with national monetary systems, cryptocurrencies are a medium of exchange involving digital assets. Bitcoin is a form of cryptocurrency and is the most well-known. Cryptocurrencies use blockchain – a digitized record of transactions.
"All of us at UNB's TME program believe in the power of young leaders and their ability to make both social and economic impacts," says Dr. Shukla. "These key individuals are creating their own opportunities while changing the world the Atlantic Canadian way."
As more and more assets are exchanged on the internet, offering cybersecurity services to combat criminal activity – as done by Gray Wolf Analytics – enhances the benefits and value of cryptocurrencies for users.
Already, Gray Wolf Analytics has successfully completed several business accelerator programs, and is part of NBIF's portfolio.
Cryptocurrency is altering the financial industry, and Gray Wolf Analytics is on the cusp of impacting the future of this international monetary system.
UNB's TME program is transforming the world as we know it.
Media contact: Angie Deveau
Photo: Wesley Finck, Matthew Sampson and Drake Luce of Gray Wolf Analytics. Credit: Rob Blanchard, UNB