UNB researchers providing science expertise to new Ocean Supercluster project
Author: UNB Newsroom
Posted on Jul 28, 2020
Category: myUNB , UNB Fredericton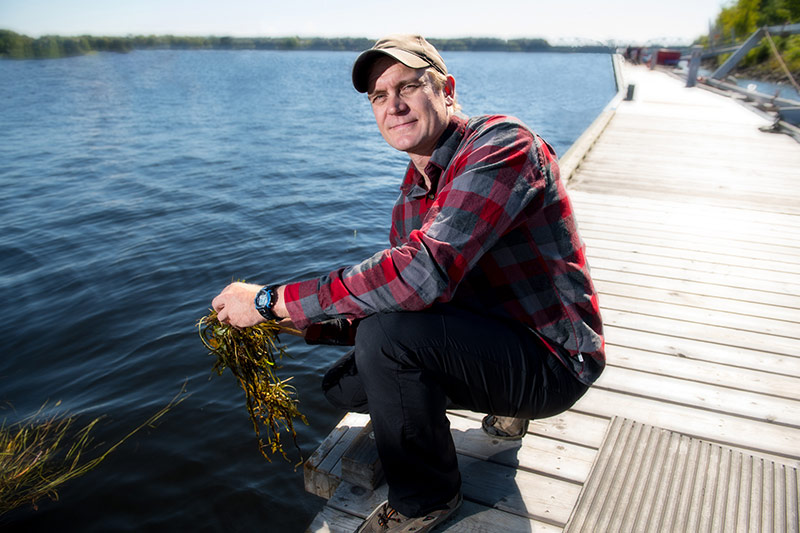 Dr. Tommi Linnansaari, UNB's Atlantic salmon research chair and an associate professor in the department of biology and in the faculty of forestry and environmental management in Fredericton, is contributing his knowledge of Atlantic salmon to Ocean Aware, a new, $29 million project announced today, in hopes of better understanding ongoing population decline.
Ocean Aware is a collaboration of eight partners that is focused on world class technology driving new sources of marine life data and ecosystem information. The new technology being developed will involve real time tracking of fish from ships at sea, expanding scientists' ability to track these fish farther, and to collect new and additional information about these populations.
"The real winners today are wild Atlantic salmon," says Dr. Linnansaari. "A robust data base that accurately tracks the movement of wild Atlantic salmon once they leave their home river is vital to solving the puzzle of declining fish populations. These new data recorders will be the 'black boxes' for scientists looking to understand and solve the problem of declining salmon stocks. This new technology and the opportunity to work with eight great partners that share our passion for conservation is great news for wild Atlantic salmon!"
Dr. Linnansaari will be undertaking research through the Canadian Rivers Institute on behalf of CAST, the Collaboration for Atlantic Salmon Tomorrow, where he is also engaged as their research coordinator.
CAST will be the first to test Innovosea's new marine tracking devices.
These new devices compensate for the range and battery life of existing tags by taking advantage of the presence of ships and facilities already in the ocean. They have potential global applications for endangered and at-risk species of marine life and their movement around energy structures like offshore drill rigs and wind energy towers as well as shipping lanes.
Dr. Linnansaari will work with a team of researchers at UNB, including colleagues Dr. Kurt Samways, Parks Canada research chair at UNB and Canadian Rivers Institute, and Dr. Allen Curry, professor of biology and forestry and environmental management. The project will additionally create research opportunities for graduate students and postdoctoral fellows, providing emerging researchers with valuable experience.
"Declining marine populations are a major concern for our world," said Dr. David MaGee, UNB's vice-president (research). "Dr. Linnansaari, Dr. Samways, and Dr. Curry's contribution of their expertise in support of Ocean Aware highlights how UNB's research can be effectively leveraged in support of industry partnerships, with benefits for our communities and our world. Congratulations to the UNB research team, to the Canadian Rivers Institute, and to all the organizations taking part in this project."
The partners in this project are Canada's Ocean Supercluster; Innovasea Marine Systems Canada Inc.; Ocean Choice International; Emera Incorporated; Nova Scotia Power Incorporated; Irving Shipbuilding Inc.; Dartmouth Ocean Technologies Inc.; Xeos Technologies Inc. The project is also supported by CAST (with research support from UNB), the Department of Fisheries and Oceans, the Ocean Tracking Network, Dalhousie University and Memorial University of Newfoundland.
Media contact: Jeremy Elder-Jubelin
Photo credit: Rob Blanchard / Photo UNB