UNB researchers to share, teach data expertise with provincial government
Author: UNB Newsroom
Posted on Jun 4, 2020
Category: UNB Fredericton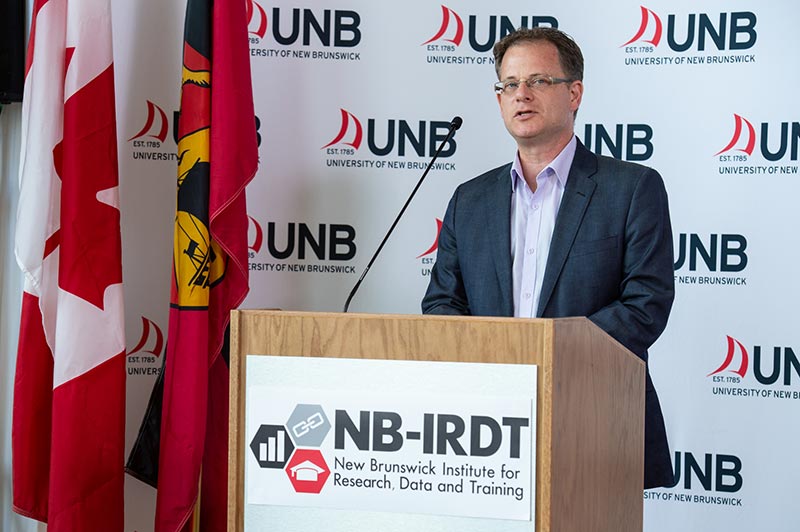 The New Brunswick Institute for Research, Data and Training (NB-IRDT) at UNB is sharing its expertise to provide New Brunswick's public servants with the skills to interpret, understand and use large data sets in developing public policy.
With greater amounts of more diverse data being collected every day, the potential use of this data to inform decisions grows accordingly. But using it well requires special skills and, in 2015, NB-IRDT was established at UNB to develop this capacity.
"Data are becoming increasingly valuable to governments around the world," said Dr. Ted McDonald, NB-IRDT director. "When used properly, they have the potential to improve public services, inform policy, and provide evidence to help address complex social problems. Canadian governments are stressing the importance of evidence-based policy, but public servants often lack the training to incorporate evidence-based practices into their work."
NB-IRDT currently has research agreements with four different provincial government departments. Using the $200,000 in funding they have received from the Social Sciences and Humanities Research Council (SSHRC) Partnership Development Grant program, the institute will expand on these existing partnerships to more broadly develop data literacy skills, knowledge and capacity across these and other provincial government departments.
Dr. McDonald and his team will create a training program to help civil servants develop their data literacy skills, and they also plan to create new mentorship opportunities to support interdisciplinary research partnerships between government and academics. The project, thought to be the first such comprehensive training program in the country, will help distribute knowledge and expertise across more units.
"Data literacy expertise tends to be concentrated in larger departments or jurisdictions, rendering smaller jurisdictions less able to take advantage of these data for decision-making," said Dr. McDonald. "To our knowledge, no provincial training system exists in Canada, and the strong relationships between NB-IRDT and the Province of New Brunswick make our province an ideal place to pilot a Canadian-made data literacy program for government."
The research project will also fund graduate student participation, providing them with valuable research experience.
This project is one of three UNB projects funded by SSHRC's Partnership Development Grants program this year, totaling more than $500,000 over three years. Other projects explore the collaborative creation of a new sustainable forestry model in Atlantic Canada and enhancing police agencies' understanding of coercive controlling behaviour as part of intimate partner violence and improving their assessment of the issue.
Dr. David MaGee, UNB's vice-president (research), commended the researchers on the quality and reach of their projects.
"The research knowledge created by our faculty members and researchers has a life and purpose outside of our institutional walls," he said. "These funded projects reflect the dedication of our researchers in contributing to the knowledge, success, and well-being of our communities, here in New Brunswick and beyond. Congratulations to all the research teams involved."
Media contact: Jeremy Elder-Jubelin
Photo credit: UNB Media Services