Reshaping the NB workforce in a post-pandemic recession
Author: UNB Newsroom
Posted on Jun 8, 2020
Category: UNB Saint John , myUNB , UNB Fredericton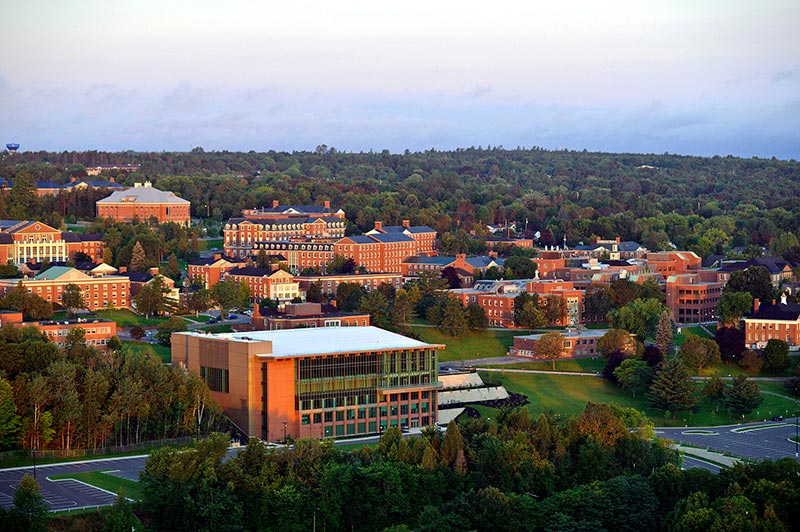 The following commentary by UNB President and Vice-Chancellor Dr. Paul J. Mazerolle appeared in the June 6, 2020, edition of the Telegraph-Journal under the headline "Reshaping the New Brunswick workforce after COVID-19."
A year ago, I returned to New Brunswick after working in Australia and the United States over a thirty-year period. At the time, I remarked to people that the values that I was taught here proved to be valuable in the global context. Growing up in New Brunswick shaped me in how I see the world, underlined by the values of teamwork, loyalty and commitment.
Back then, few of us would have imagined that New Brunswick would be challenged by the consequences of a global pandemic, or by the prospect of a deep recession that may follow. But it has been easy to anticipate the encouraging response of New Brunswickers as those same values of teamwork, loyalty and commitment have been on display in the way our province has worked to overcome our challenging circumstances.
A fundamental challenge and opportunity in the months ahead will be in how we can all contribute to the post-pandemic economic recovery. By accelerating our province's economic recovery through cooperative and collective efforts, we can mitigate some of the negative impact on employment security, business competitiveness and community resilience.
COVID-19 has displaced many New Brunswickers from their jobs, placing them, their families, and their communities in a precarious situation. Short-term assistance is a good first step, but better job prospects and a more reliable career outlook will require us to put our economy on the path to recovery and growth.
A key priority for an institution like UNB is to determine how we can help New Brunswick to successfully navigate a post-pandemic recession. UNB exists to advance the public good. We are an outwardly facing institution, committed to the needs of the community, as has been confirmed by being voted Canada's most entrepreneurial university by Start-up Canada.
How best can a university committed to advancing the public good assist New Brunswick in confronting the post-pandemic economic recovery? There are a number of options to consider, but let's begin with an area with tangible consequences for individuals and the business sector--the need to reshape the workforce in New Brunswick.
The need to reshape the New Brunswick workforce has been widely acknowledged by our Premier, who has been diligent in explaining the scale of this challenge: more than 120,000 jobs over approximately seven years. For the thousands of New Brunswickers who have lost employment in the last couple of months, job replacement isn't just a conceptual issue. For them, it's a question of immediate need.
The challenge is about more than numbers. The jobs of the future will differ in important ways from the jobs of the past. Employers know that the success of their companies and industries will rest on a New Brunswick workforce that is better skilled and more adaptable than competing regions. The need for a highly trained workforce makes education a necessity, not a luxury.
Our most mature sectors understand this. To be globally competitive, our forestry sector now applies advanced geomatic and remote sensing technologies. Precision-machining companies are adapting to disruptive technologies such as additive manufacturing, and developers increasingly consider precision off-site construction methods. Our energy sector is contemplating the use of small modular reactors to create low-carbon affordable energy and reduce legacy nuclear waste. These all present tremendous opportunities for New Brunswick, if we are able to match these jobs with our people.
As the impact of COVID-19 displaces New Brunswick workers, we should be thinking about how we can harness this change to build a brighter future for people, families and employers. As a democratic society, we are quick to understand the need for universal access to education for children: it maximizes their potential, but also the potential of the community as a whole. But what about a mid-career worker with dependent children, who needs to up-skill or re-skill? When they successfully transition to emerging economic opportunities, we all win. It is time to think about how we can all work together to transform the current disruption into a force for positive change. This requires a co-active effort, fostered by a commitment to embracing a collaborative, cooperative and active role in re-building, indeed strengthening the New Brunswick economy.
The potential for positive change goes beyond matching skills with jobs. By reshaping the New Brunswick workforce, we can also advance Reconciliation, strengthen our rural and remote communities, address the prosperity gap, and alter attitudes and perceptions of our province. It is also an opportunity to confront the outdated idea that education is fundamentally a choice between college and university. Our future will be built on lifelong learning, across a variety of experiences. We need more education, period. Like fluoride in the water, education needs to provide the foundation and platform for economic resilience, recovery and growth.
This approach holds appeal for more than our existing population. To reach sustainability, New Brunswick must also grow its population. Higher education is a pipeline to global talent, attracting the world's best and brightest to our province and its workforce. When international students decide to stay in New Brunswick and add to its capabilities, everyone benefits.
Building a modernized approach to higher education and workforce development will require careful thought, deep resolve and a bold commitment of resources. First and foremost, our province will need to ensure financial accessibility for students and workers. We will need our publicly-funded institutions to rapidly expand the delivery of high-quality accredited programs in new ways, especially on digital platforms. We will need employers to be more active in investing in developing workers to meet emerging needs.
This will be demanding, but it holds the potential for real transformation. By working together to shape a better prepared and more resilient workforce, we can build a stronger and more prosperous economic future for New Brunswick and its people.
The pandemic we are experiencing is drawing us all closer together. The cooperation among New Brunswick's political leaders has been encouraging, as is the collaboration between federal and provincial governments. Employers, students and workers are all motivated to find a better path forward. Those New Brunswick virtues of teamwork, loyalty and commitment look more valuable today than ever before. When has there been a better time to make a bold change for our future?