UNB-led research partnership seeks to create new movement in forest stewardship
Author: UNB Newsroom
Posted on May 25, 2020
Category: UNB Fredericton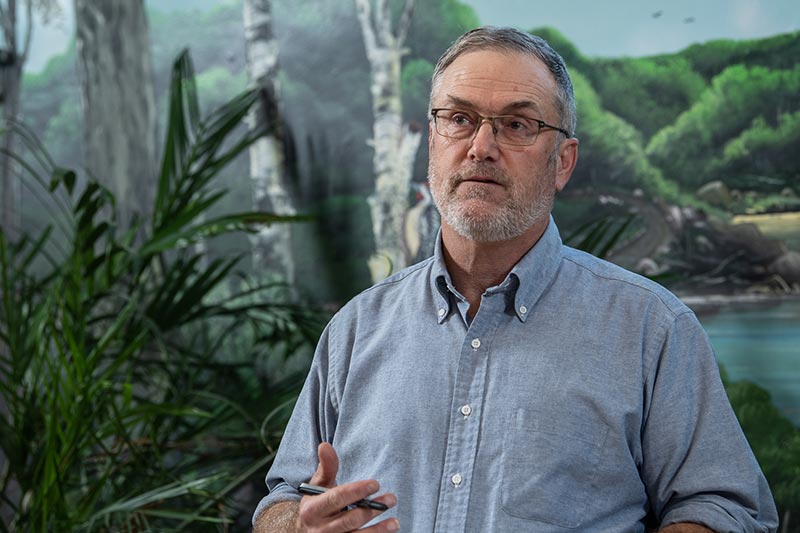 Canadian forests, like the Acadian Forest found in the Maritimes, are a vital resource that fulfill both an environmental and economic role. With pressures on forests increasing, researchers at the University of New Brunswick are working with landowners to investigate new models and methods to support their use and continued existence.
A UNB-led research team spanning four institutions located in two provinces and one U.S. state has been awarded $169,000 in funding over three years from the Social Sciences and Humanities Research Council of Canada (SSHRC) to explore this topic.
The grant, funded through the Partnership Development Grant program, will support the research team's work with a group of progressive forestry and land management organizations to increase their knowledge of their partners' goals, capacities and networks. Building on the research team's prior knowledge and expertise, they will use this new research and further engage with their partners to explore new approaches to private-land forest management.
"We want to initiate and nurture a social movement around ecological, climate-smart forest management on private land in the Maritime provinces," said principal investigator Dr. Tom Beckley, a professor in the faculty of forestry and environmental management at UNB Fredericton. "Ultimately, we want to create an alternate paradigm of restorative, climate-resilient forestry with the intent of creating a sustainable, renewed and modified Acadian Forest that nevertheless continues to provide financial opportunities and a multitude of other benefits for their owners and to the broader society."
Initially, the partnership will include conservation groups, groups undertaking forestry activities and landowners: Community Forests International, Medway Community Forest Cooperative, ACFOR, Nature Trust New Brunswick and the Family Forest Centre. Community Forests International, a main partner in the project, is a key driver of the alternative model espoused by the project. The research team is planning to expand this network through the project, culminating in a group that can make a large-scale impact on forestry and climate change.
"Through the capacity building aspect of the project, we will create a 'coalition of the willing,' that collectively has the land base, the knowledge and the will to create and popularize this new paradigm," said Dr. Beckley. "The medium-term goal is to have pledges from 9,000 landowners to manage over 500,000 hectares of private land according to climate-resilient, restorative forestry principles by 2025. We will also try to invent creative ways for non-landowners to support and benefit from sustainable forest management on private land in the region."
The research project will also fund graduate student participation, providing them with valuable research experience.
This project is one of three UNB projects funded by SSHRC's Partnership Development Grants program this year, totaling more than $500,000 over three years. Other projects explore the creation of a training program to enhance the capacity of provincial employees in using administrative data in decision making and enhancing police agencies' understanding of coercive controlling behaviour as part of intimate partner violence and improving their assessment of the issue.
Dr. David MaGee, UNB's vice-president (research), commended the researchers on the quality and reach of their projects.
"The research knowledge created by our faculty members and researchers has a life and purpose outside of our institutional walls," he said. "These funded projects reflect the dedication of our researchers in contributing to the knowledge, success, and well-being of our communities, here in New Brunswick and beyond. Congratulations to all the research teams involved."
Media contact: Jeremy Elder-Jubelin
Photo: Dr. Tom Beckley. Credit: Jeff Crawford/UNB