Spring 2020 UNB graduates show their work
Author: UNB Newsroom
Posted on May 27, 2020
Category: myUNB , UNB Saint John , UNB Fredericton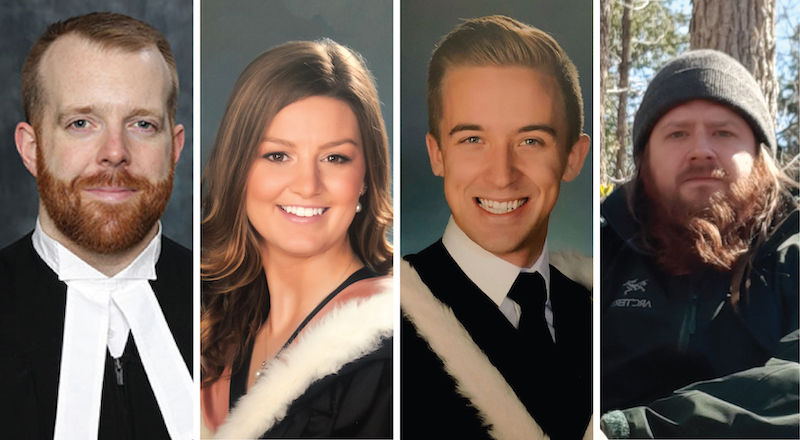 As we often say at UNB, graduation is a time when communities join to celebrate the work and accomplishments of students and faculty. While this year's graduates are experiencing a different form of send-off due to COVID-19, they remain as accomplished, determined and driven as ever.
We've chosen four students whose stories are a snapshot of some of the incredible work happening within, and beyond, the halls of UNB. They also serve as a demonstration of their vigor and grit.
Curtis Doyle
In the summer of 2021, University of New Brunswick Class of 2020 faculty of law graduate Curtis Doyle will be heading to Ottawa, where he will be clerking for the Honourable Justice Michael Moldaver at the Supreme Court of Canada.
As a member of a four-person clerkship team, Doyle will provide legal support to Justice Moldaver as he researches the law and writes his decisions.
"I'm most looking forward to learning how judges think about cases," says Doyle. "It will also be a privilege to read the writing and to hear the arguments of some of Canada's best litigators."
The application process for a Supreme Court clerkship is exhaustive, but UNB's Clerkship Program aims to assist students through this process and provide additional support to those fortunate enough to receive clerkship interviews.
"Professors [Michael] Marin and [Jane] Thomson provided me and the other interviewees with a great deal of help in preparing for the interview," Doyle says. "They put us in touch with lawyers who gave tips on how best to conduct a Skype interview and on what to expect during the interview itself. Their help was invaluable."
Doyle found out that he received the clerkship on the final day of the March Reading Week, just as he returned to Fredericton from his home province of Prince Edward Island.
"I expected that I would, on that day, receive an email thanking me for my application but informing me that I had not been selected. Having checked my email probably 500 times that morning, I promised myself that I would not check again until the next day. Then the phone rang, and Justice Moldaver was on the other end."
As soon as Doyle found out he got the position, he immediately told his professors and my family.
"Then I began to worry that I had imagined the whole thing," he says. "I remained worried until I received a letter in the mail confirming my offer. It is still hard to believe. I am very lucky." 
Kathryn Magee
After starting at another university, Kathryn Magee transferred to UNB Saint John in the middle of the academic year and has never looked back.
"It was truly the best decision I have ever made," says Magee. "It brought me closer to my family, allowed me to volunteer in my own community, and I've made friendships that will last a lifetime."
Magee is graduating from the Saint John campus with a bachelor of business administration, with a major in accounting. Committed to her studies, she was recognized by the Chartered Professional Accountants Association for the highest mark in accounting in 2019. For two years in a row, Magee received the CPA Prize, and in 2018, was a member of the winning team in a J.D. Irving Accounting Case Competition.
Magee is a two-time recipient of the ACAA's prestigious Rod Shoveller Memorial Award for Excellence in Academics, Athletics and Community, for her dedication to her sport and her community. A skilled athlete and accomplished leader, Magee was captain of the women's basketball team for four years and has four CCAA National Scholar Awards to her credit. During her final year at UNB Saint John, she was the Student Athletic Advisory Committee Team Representative. With a strong belief in giving back and helping others, she mentored children while volunteering with Big Brothers, Big Sisters; Special Olympics; and the Promise Partnership.
A dean's list student throughout university, Magee is the recipient of a number of scholarships including the Dr. Ann Gorman Condon Academic Athletic Achievement Award, a James Somerville Scholarship, and a Dr. Colin B. Mackay Scholarship. She is also a 2020 Graduating Student Leader Award recipient.
"Kathryn is not only a highly decorated student athlete, but is one of our top graduating students. We are truly proud of her many accomplishments," said Dr. Michel Rod, dean of the faculty of business on the Saint John campus.
Magee has effectively balanced success in the classroom, competitiveness on the court and volunteerism. In the fall, she will begin the bachelor of education program.
Justin Leslie
Justin Leslie is graduating from the Saint John campus with his bachelor of arts in psychology, with a criminal justice minor. During his four years at UNB Saint John, he contributed significantly to student life and athletics and is thankful for the opportunity.
"My four years at UNBSJ have been amazing and I have everyone around me to thank," says Leslie. "I would not be where I am today without my amazing friends, coaches, UNB staff and especially my parents."
A graduate of Fundy High School, Leslie has been an incredible ambassador for UNB Saint John. As president of its Residence Council, he was responsible for ensuring students had an exceptional experience and were well looked after. Working closely with other council members and Residence Life staff, he planned events and activities to ensure the students felt a strong part of their community.
Throughout his four years on the men's soccer team, Leslie promoted the program to other prospective players and demonstrated his obvious pride for UNB and for Seawolves soccer. An incredible student-athlete, Leslie has been a consistent role model for his teammates and fellow students.
"Justin is a program booster with infectious enthusiasm," says Natasha Kelly, varsity athletics coordinator at UNB Saint John. "Men's soccer participation has increased ten-fold since he has become involved."
A strong leader and volunteer, Leslie strove to enhance campus spirit and to help others. He served as orientation leader with the Students' Representative Council; was a member of the student-athlete advisory committee; was a volunteer with the MEDLIFE campus chapter and Global Brigades; and was involved with Shinerama, a national fundraising initiative in support of Cystic Fibrosis Canada.
Recognized for his outstanding voluntary extracurricular contributions at UNB Saint John, Leslie is a 2020 Graduating Student Leader Award recipient. Other awards he has received include an SRC Student Leadership Award, a Carl Fraser Student Leadership Award, and a YMCA Endowment Bursary.
Leslie's future plans are to join the Canadian Border Services Agency.
Dakota Tomah
For many university students, the journey to graduation isn't easy. Or linear. That sentiment rings true for forestry and environmental management (ForEM) honours graduate Dakota Tomah. At 29, Tomah is a mature student, and one with a great deal of life experience.
Throughout high school, Tomah played hockey and several opportunities had been presented to him within the major junior league. "I reflected around graduation and realized that the sports path wasn't really what I totally wanted to do.
"My mother died when I was 12 so I spent a lot of my teenage years being fairly introspective. Sports brought stability to my life at that time, and while hockey was something I was good at, and had the potential to lead me somewhere, I wasn't playing because I liked it," he says.
Tomah made the decision to quit playing hockey and enroll in the faculty of science at UNB. Given his prospects in the sports world, this decision was met with pushback from family and friends.
Throughout his first few years at UNB, Tomah had trouble applying himself, and switched from science to arts, then back to science, and finally to ForEM in his third year.
"I wasn't in class all that much and was struggling with a lot of mental health issues. I got into some pretty heavy alternative lifestyle choices," he says. "It came to a point where I had clearly lost my way. I left mid-semester without telling anyone or withdrawing from any of my classes, got on a plane to Alberta, and found work on a dairy farm out in the prairies."
Tomah knew he wanted to work in the environmental management field, but throughout his 20s, his mental health struggles were a consistent barrier. "I came back home to New Brunswick a year later to do some seasonal work with an archaeology crew. It was an interesting awakening."
Tomah is from Woodstock First Nation, and until that point, he had viewed the world from a Western science perspective only. "This job brought home for me the importance of combining traditional Indigenous ways of knowing with Western thought."
After a few years, jobs, and a stint living in his car in Toronto, Tomah felt ready to return to UNB to finish his undergraduate degree in forestry and environmental management.
"I had worked in landscaping for a few years and knew it wasn't a pathway that would facilitate my interests or allow me to discover and explore my Indigenous roots," Tomah says. "I didn't think there would be a better way to do that than go back to academics."
Tomah went through an intense appeal process. "I wanted to get my GPA to a point where I could pursue a higher degree than just my bachelor." Now that he's finished his undergraduate degree, Tomah will transition directly to UNB's accelerated master of science in environmental management graduate program, in which his undergraduate honours research parlays into his post-graduate work.
Tomah's research focuses on applying both Western Science and Indigenous Ways of Knowing to environmental research practices. "It's about taking knowledge, framing it back into Indigenous ways of knowing, and disseminating it back into our communities so that we can continue our traditions."
The practice of combining these viewpoints is called Two-Eyed Seeing, and is known to have strong positive societal outcomes.
"The main focus of Two-Eyed Seeing is that Indigenous peoples have this interesting lens in which they view the world from two different ways of knowing. This offers a really unique perspective," Tomah says. "Indigenous ways of knowing state that nature has rights and we have responsibilities. Humans aren't right holders to the same capacity that the natural environment is right holder, and we have the responsibility of maintaining the rights of nature."
This line of traditional Indigenous knowledge gained over millennia through places and storytelling is often considered at odds with traditional science Tomah says, while adding that this perspective is often viewed as inferior to Western science.
"My research uses Western science methodologies to help understand what community ecological factors influence plant communities used by Indigenous peoples for medicinal or ceremonial purposes, or for other utilitarian purposes within the community." Tomah and his team examined the possible drivers of change within the plant systems they surveyed and how the disruption of these ecosystems impacts the Indigenous community, whether positively or negatively.
Tomah's research also found that of the nearly 200 species identified through a six-site plant survey, at least 60 per cent have practical purposes within the Indigenous community. Yet after further research, he found that only a portion of these species are currently accessible for traditional purposes within the studied communities.
"It's not that the Indigenous community only wants to use that proportion of plant species," Tomah says, "It shows that along the way there's been a loss of knowledge.
A big part of Tomah's study is about restoring that knowledge and reviving tradition within New Brunswick's Indigenous communities. "In this sense, you can't separate the social implications from the scientific work," he says. "The two are intrinsically intertwined, a clear illustration of the value of combining Western thought with Indigenous ways of knowing.
"The Indigenous community is hugely misunderstood," says Tomah. "I want this research to show the importance of the Indigenous perspective. That it's of equal value to Western ways of knowing."
Media contact: Hilary Creamer Robinson
Photo: Curtis Doyle, Kathryn Magee, Justin Leslie and Dakota Tomah