UNB's Dr. Kenneth Kent named NBIF's 2020 Star Mentor
Author: UNB Newsroom
Posted on Apr 17, 2020
Category: UNB Fredericton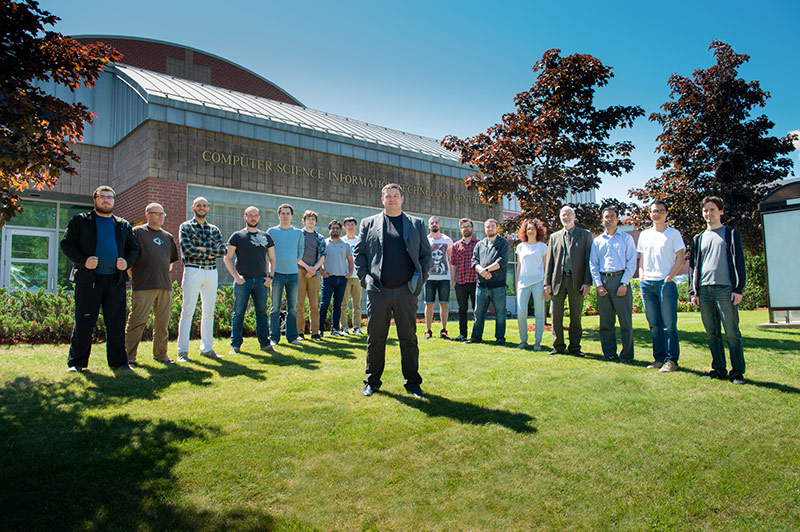 The New Brunswick Innovation Foundation (NBIF) has named UNB's Dr. Kenneth Kent their 2020 Star Mentor, recognizing him as the province's top research mentor at a New Brunswick university.
In recognition of this award, he has received a $70,000 grant to support the training and development of student researchers. He was one of three researchers recognized as star mentors this year.
Dr. Kent is a professor of computer science at UNB Fredericton. He is also the director of the IBM Centre for Advanced Studies – Atlantic, an honorary professor at Hochschule Bonn-Rhein-Sieg (Germany) and co-founder and vice-president of funding & investments at anessa (WEnTech Solutions Inc).
His research explores the computer systems that lie between the hardware and a user's applications, and his research projects are undertaken with industry partners ranging from local startups to large, multi-national corporations including IBM, Huawei and Google. He has recently started new research work as part of UNB's $7-million Atlantic Digital Grid project, announced in 2019.
Dr. Kent takes great pride in involving students in research work, and in supporting their growth and development as researchers.
"I feel one of my greatest, if not most significant, contributions through the course of my career will be the people I have a direct impact on training and mentoring. I take an approach to mentor students to not just be exceptional researchers, but to also be exceptional people."
Former students described Dr. Kent as a researcher and teacher who cares for his students' well-being as well as their success, who mentored them personally as well as professionally, and who creates a warm and welcoming community.
This philosophy shows through in the way he structures his research activities, making his students and mentees a key part of his work.
"Students play an integral role in all of my projects," he says. "As soon as a student joins a project, they are involved and actively engaged in all aspects of the project. Together we explore potential solutions, formulate experiments for testing and analyze the outcomes of our work. I ensure that they are involved in interacting with the industry partner on the project and in the writing and presentation of their findings. Without student involvement the research would not take place."
Dr. Kent currently supervises four employees or postdocs and 28 graduate students. He has supervised more than 30 additional graduate students to degree completion in the past decade.
Dr. Rémy Rochette, a professor of biological sciences at UNB's Saint John campus, was one of three researchers also recognized by the NBIF with a Mitacs Honourable Mention prize, receiving a $1,500 voucher in recognition of their contributions.
"Mentoring students is a cornerstone of my work that gives me great satisfaction," says Dr. Rochette. "The mentoring that I received from my own professors has greatly and positively shaped my career and my life, and I hope that I can do the same for my students."
Dr. David MaGee, vice-president (research) at UNB, applauded UNB's 2020 NBIF recipients.
"On behalf of UNB, I offer congratulations to Dr. Kent on being recognized as NBIF's Star Mentor," says Dr. MaGee. "In addition to being an accomplished researcher, he is clearly dedicated to sharing his expertise with others and to helping to cultivate the next generation of experts. Congratulations to Dr. Rochette for being recognized as another of New Brunswick's top research mentors. We're very proud of our researchers and of everything they contribute to our students and our communities."
Dr. Laura Richard, director of research at NBIF, also recognized the important contributions of all of New Brunswick's researchers.
"New Brunswick is home to extraordinary researchers who are dedicating their time and energy to mentoring the next generation of research professionals. They play a vital role in supporting the innovation agenda here in New Brunswick and are essential to developing and commercializing new technologies," she said.
Media contact: Jeremy Elder-Jubelin
Photo: Dr. Ken Kent with his students. Credit: Cameron Fitch/UNB.