Success for UNB law students at the Canadian National Negotiation Competition
Author: UNB Newsroom
Posted on Feb 28, 2020
Category: UNB Fredericton , myUNB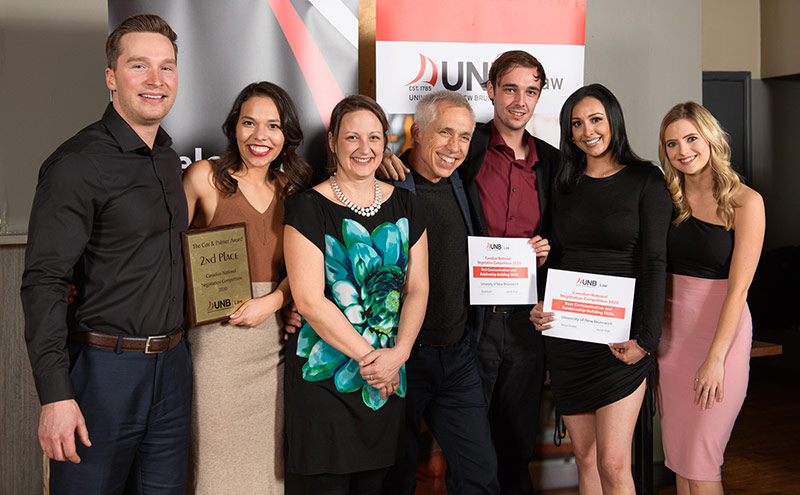 Four UNB law students enjoyed success at the Canadian National Negotiation Competition, held on Feb. 21 and 22 at the Wu Conference Centre, UNB Fredericton.
The event, hosted by the faculty of law, saw 16 teams from 10 law schools across the country compete in simulated negotiations.
The UNB law negotiation team of Danica Jorgenson and David McDonald placed second overall in the two-day competition.
Jorgenson considers the second-place finish a collective effort and acknowledgment of the months of preparation put in by the UNB teams.
"We received so much help and support from our coach, Jen Davis, the other UNB team, Tanya and Jacob, and our alternate Chelsea Drodge, who participated in extra practices and always provided valuable and thought-provoking feedback," she said.
The negotiation team of second-year law students, Tanya Gulati and Jacob Elyk, took home the prize for Best Communication and Relationship-Building Skills.
"I believe it is one of the best awards that we could have won," said Elyk. "Interest-based communication can be used in almost any context involving conflict or any situation that requires agreement. These communication skills are useful in both the professional realm and within your day-to-day life."
The UNB teams spent the last six months preparing for the competition. The group met twice a week to engage in practice negotiations, negotiation video review, and detailed analysis of competition scenarios.
"We put in some very long days going over every scenario point-by-point," said Jorgenson. "We developed a list of questions, possible negotiation options, and worst-case scenarios in an attempt to avoid being caught off guard."
First place went to Osgoode Hall law students Alina Butt and Abiramy Uthirakumaran. The pair have qualified for the International Negotiation Competition, which will be held in July at the Alexander Blewett III School of Law, University of Montana.
Day one of the competition focused on two-party negotiations with both sides receiving a shared set of facts as well as confidential information known only to a particular side. Day two saw four teams compete simultaneously in the multi-party round of the competition.
"Multi-parties are definitely more challenging," said Jorgenson. "Both UNB teams subscribe to a very collegial negotiation style and a key factor in having success with that style is being able to build rapport with one's counterparts. This is much more challenging with multiple sets of personalities and interests."
"Multi-party is more difficult, but the most fun," said Elyk. "You need to focus on keeping track of all the different interests, and any solutions usually need to meet all these different and often competing interests. The ability to form alliances with other teams adds an extra level of strategy not found in one-on-one."
"Consensual dispute resolution is an extremely important skill for law students to develop," said Jorgenson. "The majority of legal disputes are settled outside of court. It's a very valuable skill for every lawyer to have."
The UNB faculty of law congratulates all teams for a weekend of strong competition, for helping to promote consensual dispute resolution, and for continuing to build bridges between Canadian law schools. The faculty also thanks the panel of 30 volunteer judges who provided invaluable feedback to participants and third-year UNB law student Renna Eliakis, who organized the competition.
Full competition results
1st place – Osgoode Hall Law School (Alina Butt & Abiramy Uthirakumaran)
2nd place – University of New Brunswick (Danica Jorgenson & David McDonald)
3rd place – University of Saskatchewan (Hayden Redl & Abbie Treslan)
Frederick H. Zemans Spirit of Negotiation Award – University of Saskatchewan (Kali Stahl & Dani Nichols)
Best Process Management & Analysis Skills – University of Manitoba (Meghan Jede & Caleb Henry)
Best Advocate for Client Interests – Western University (Alyssa Chen & Brooke Schneider)
Best Communication and Relationship-Building Skills – University of New Brunswick (Tanya Gulati & Jacob Elyk)
Photo: The UNB CNNC team with their respective prizes. (L-R) David McDonald, Danica Jorgenson, Jennifer Davis, UNB law dean John Kleefeld, Jacob Elyk, Tanya Gulati, Chelsea Drodge. Credit: Jeff Crawford/UNB Media Services