Study shows New Brunswick library usage increasing
Author: UNB Newsroom
Posted on Jan 9, 2020
Category: UNB Fredericton , myUNB , UNB Saint John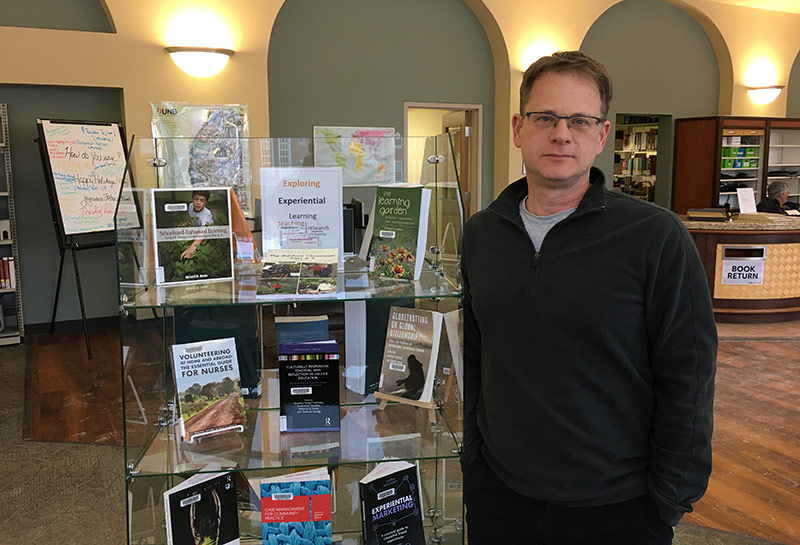 New Brunswickers still love the province's traditional libraries despite rapid technological and social change over the past decade, according to research from the New Brunswick Institute for Research, Data, and Training (NB-IRDT) at the University of New Brunswick.
NB-IRDT researchers looked at numbers of active library cards and how many items (both physical and electronic) were checked out from 2010 to 2018. Despite the increased availability of free electronic reading material, inexpensive e-publications, and subscription reading services, library use in New Brunswick grew by eight per cent.
"I think everyone was a bit surprised by the results," says Dr. Ted McDonald, director of the NB-IRDT. "With all the other ways to access reading materials these days, you might intuitively think library use has declined. But the data shows just the opposite."
Dr. McDonald says that growth in library use was particularly pronounced in the south of the province. The three largest urban centres – Fredericton, Moncton, and Saint John – saw a 19 per cent increase in library usage, while the south in general experienced a 13 per cent increase in use.
Population growth in the urban south likely explains the significant increase in library use in New Brunswick's three urban centres, but Dr. McDonald says that stability in library use in the north was also remarkable.
"Despite population decline, economic hardship, and an aging population, northern New Brunswick library use remains stable and robust," says Dr. McDonald.
The data shows a significant spike in library use beginning in 2015/16, likely due to library policy changes that improved access.
"In 2015, New Brunswick libraries eliminated late fees for children, developed some more flexible ways to obtain library cards, and started opening on the weekends. New Brunswickers appear to have responded positively to those changes," says Dr. McDonald.
While New Brunswick libraries offer a good array of electronic publications in their collections, New Brunswickers still prefer to check out physical books.
"It appears that print publications still have a very healthy audience in New Brunswick," says Dr. McDonald.
"A number of studies have been published showing the qualitative value of libraries as community gathering places, trustworthy sources of information, and a source of communal well-being," says Dr. McDonald. "This wasn't a study about how people feel about libraries – it looked at whether they actually use the libraries they profess to value. And it shows that they absolutely do."
About the NB-IRDT
The New Brunswick Institute for Research, Data, and Training (NB-IRDT) is New Brunswick's secure data repository for anonymized administrative and health data from the Government of New Brunswick and other public bodies. Headquartered on the Fredericton campus of the University of New Brunswick, the NB-IRDT has satellite offices at the University of New Brunswick Saint John and Université de Moncton. Resident researchers assist with the design, execution, interpretation, reporting of research projects and program assessment.
Media contact: Mara Mallory, University of New Brunswick, mara.mallory@unb.ca, (506) 292-0720