Mi'kmaq-Wolastoqey Centre creates online portal to share resources about Wabanaki Nations
Author: UNB Newsroom
Posted on Oct 25, 2018
Category: UNB Fredericton , myUNB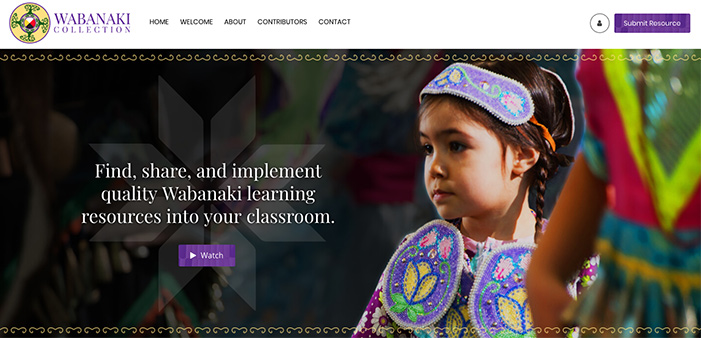 The Mi'kmaq-Wolastoqey Centre at the University of New Brunswick has launched a website, Wabanaki Collection, to provide teachers with quality resources about Wabanaki Nations.
The website connects post-secondary educators, school teachers, and the public with a variety of resources that support enhanced relationships between all the peoples of Eastern Canada and Northeastern United States. It includes documents, video, music and other primary sources about the Wabanaki.
"We invite you to walk in our moccasins of Wabanakiyik, as we follow the tracks of our ancestors to the sacred circle of understanding; for this generation and generations yet to be born," says Opolahsomuwehs (Imelda Perley), UNB's Elder-in-Residence.
The project is named for the first peoples of this territory - Wabanaki, or People of the Dawn - which include the Mi'kmaq, Wolastoqiyik, Abenaki, Penobscot and Passamaquoddy.
All content in the collection relates to Wabanaki worldviews, including history, culture, language and education. The goal of the collection is to provide a way for faculty members and educators to become familiar with Wabanaki worldviews, culture, history and treaty, and enable them to incorporate resources and modules within their courses that will enhance their curricula and provide a more inclusive perspective. Along with educators, the public are also encouraged to view the resources and expand their knowledge and understanding of the first people of this territory.
"With the Wabanaki Collection, you can trust that you'll only find high quality content that honours Indigenous perspectives - along with the convenience of search, filters, and tags to help you find exactly what you need," says Ms. Brewer. "We encourage everyone to journey with us today."
To learn more about this project, contact Natasha Brewer, Mi'kmaq-Wolastoqey Centre Project Coordinator: (506) 453-3513 or njbrewer@unb.ca. https://www.youtube.com/watch?v=LPBVPvFlNTA
Media contact: Kelsey Pye