Trailblazer Abbey Alexander exemplifies Primrose Scholars' commitment to excellence
Author: Development and Donor Relations
Posted on Mar 26, 2021
Category: Creating Opportunities for Students , Scholarships and Bursaries , News and Events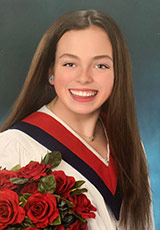 ---
Over the past 20 years, 38 UNB Saint John students have benefited from the Primrose Scholarships, generously supported by Arthur Irving (DLitt '09) and Sandra Irving (BA '95, DLitt '09). The students who are selected to be Primrose Scholars are among UNB's most outstanding. They are academic achievers, athletes and accomplished community leaders. 
A perfect example of a Primrose Scholar is first-year student, Abbey Alexander. Before enrolling at UNB, Abbey was a member of the Reach for the Top Team, served as the editor of the Rothesay High School yearbook, participated in the National Student Leadership Conference, and was active on the ski team and in Pony Club testing. She served as a volunteer greeter and escort at Horizon Health, and devoted time to the Canadian Pony Club and the Sweet Caroline Foundation, a local organization that raises awareness of food allergies.
Now Abbey is blazing a new trail.  She is among the 28 inaugural students in UNB Saint John's new bachelor of health program. Unique in Canada, this interdisciplinary program educates students to be the bold thinkers who can transform the health care system no matter where their career path leads them.
Like many former Primrose Scholars, Abbey plans to become a doctor, specializing in pediatrics. "Courses such as global health and future issues and current trends in health have given me a new perspective on the health care system," she says. Thanks to the bachelor of health program, she adds, "I now understand that to be a good doctor I require so much more than an education. I need an open mind. I need to be exposed to as many experiences as possible, especially on a global scale."
Now known as the Arthur and Sandra Irving Primrose Scholarship, valued at $10,000 a year for four years, this prestigious award has made a major difference in the lives of its recipients. The financial support enables the scholars to focus on their studies and take on meaningful extracurricular activities. Arthur and Sandra Irving develop long lasting relationships with the scholars, whom they invite to the Primrose Scholars Luncheon at their home each summer. The Primrose Scholars have a strong networking community and stay in touch with each other long after their time at UNB Saint John.
Abbey corroborates the award's importance. "I aim to represent the Primrose well and be a strong role model, which motivates me to perform well and hold myself to a high standard. It also has given me a connection to a community and a feeling of a support system."
The 2021 cohort of Arthur and Sandra Irving Primrose Scholars will be announced soon. 
Learn more about the impact of scholarships at UNB.