Meet the Barrett Chair in Entrepreneurship for Digital Transformation
Author: Dr. Ken Kent
Posted on Mar 31, 2023
Category: Faculty Spotlight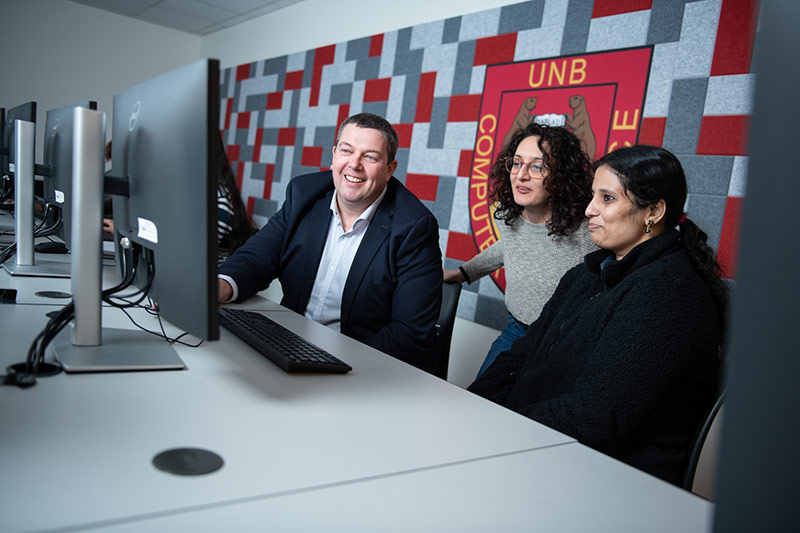 ---
My name is Dr. Ken Kent and I'm a professor of computer science here at UNB. I'm also the director of the IBM Centre for Advanced Studies – Atlantic, an honourary professor at Hochschule Bonn-Rhein-Sieg (Germany) and co-founder and advisor at anessa (previously WEnTech Solutions Inc).
My research work primarily explores the computer systems that lie between the hardware and a user's applications. I often work with industry partners ranging from local start-ups to large, multi-national corporations, including IBM and Google.
I'm also the new Barrett Chair in Entrepreneurship for Digital Transformation at UNB.
The Barrett Chair
The Barrett Chair is an opportunity for us to provide new experiential learning and skills development opportunities for our students while supporting our province's entrepreneurial sector.
We want to help support computer science students interested in working with, joining or creating entrepreneurial companies, especially in creating a positive impact for the company and our communities.
We want to give them the skills they need to thrive in these environments, beyond their ability to program. Essentially, we want to help them become a company's CTO, to give them the confidence to say "not only do I know the computer science side, but I know the business side, too."
The chair is funded by a $2.5-million commitment from Bill and Ed Barrett, who worked with the McKenna Institute at UNB to establish it. The McKenna Institute aims to connect academia, industry and government and to foster projects that advance digital economy and society.
Background
I've been at UNB for 20 years. During that time, I've had the opportunity to conduct a lot of applied research with companies ranging from huge international firms, like IBM and Google, to smaller firms and newer startups, like the Black Arcs, C-Therm and 45 Drives.
While I very much enjoy the research aspects of my work, I especially enjoy being able to mentor students and see their efforts become commercialized.
What I find very rewarding is when you work with students and companies to create an environment where the work that the student is doing contributes to something bigger. They're learning and they're adding to the scientific knowledge base, they're creating solutions and so on. They're being sought out by companies and they're able to see that, "OK, I'm not just learning, but I'm also contributing to society and people are using what I'm building," and there's that true sense of accomplishment.
There have also been many times throughout my career where I was approached by start-ups looking for help. They would tell me, effectively, "I have this really good idea, but I need to build a team and a key part of that team that I'm missing is someone from computer science who can help me build this solution." Often times, they would ask if I could help them find someone who could do it.
One of the challenges was that computer science students already have many opportunities in front of them, whether through the co-op program or through summer employment. Those opportunities are formalized and they often sign on with some of the largest companies around, where they can learn as they work their way up. So, when start-up companies come along, not only have many students already committed to something else, but there's often a sense of "I've never worked with a start-up, I'm used to going in as part of a bigger team and they want me to come in as the person?"
To date, entrepreneurship has not been a formalized opportunity in computer science. We have had some great students start or become part of start-ups, but it is rare and the students are finding their own paths to these career choices. Our goal is to expose and support our students who want to do more entrepreneurial activities.
During one of my sabbaticals, I agreed to be a co-founder of WEnTech Solutions, which was established by a couple of UNB mechanical engineering graduates. That was a huge learning curve for me. I realized there were many things that I'd never fully understood nor appreciated about the business side of entrepreneurship and how it plays a vital role in the technology product side of the company.
So, for me, the Barrett Chair is an opportunity to share what I've learned and to help mentor students who want to make the jump and be that entrepreneur creating innovative solutions.