Governor general pays visit to UNB s Institute of Biomedical Engineering
Author: UNB Newsroom
Posted on Nov 8, 2017
Category: UNB Fredericton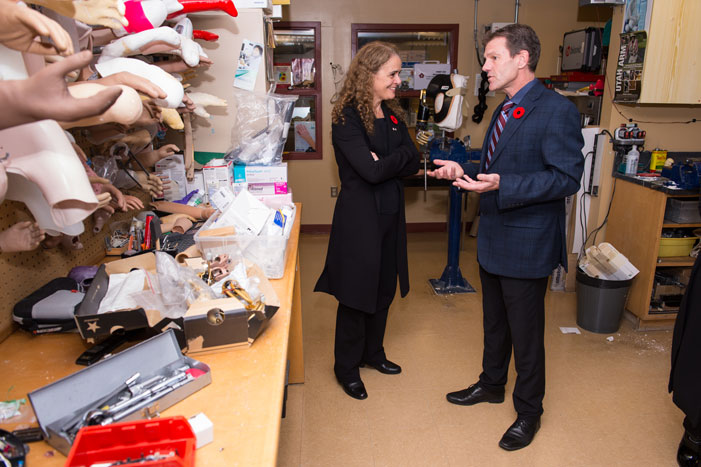 In her first official visit to New Brunswick, Her Excellency the Right Honourable Julie Payette, Governor General of Canada, toured UNB's world-class Institute of Biomedical Engineering on Nov. 7.
Greeted by Eddy Campbell, UNB president and vice-chancellor, and Karen Cunningham, vice-president (administration and finance), on arrival, the Governor General was led on a tour of the institute's prosthetics labs with institute director Kevin Englehart.
Ms. Payette, who served as an astronaut in the Canadian space program for more than a decade, then hosted a roundtable discussion about innovation and collaboration with a number of researchers, many from UNB.
"We were honoured and thrilled that Her Excellency chose to visit the University of New Brunswick on her first official provincial visit in her new role as governor general of Canada," Dr. Campbell said.
"As the province's top research university, we were more than pleased to show her the innovative work our researchers are doing, and grateful for the opportunity to discuss how to enhance collaboration amongst scientists in academia, government and industry," he said.
During her time at UNB, she met a number of researchers at the institute and reviewed emerging technologies coming from its labs.
During her service with the Canadian Space Agency between 1992 and 2013, Ms. Payette worked as an astronaut and flew two missions in space. She also served many years as capsule communicator at NASA's Mission Control Center in Houston, Texas, and was chief astronaut for the Canadian Space Agency.
She is well respected for her work in developing policies to promote science and technology. From 2011 to 2013, she worked as a scholar at the Woodrow Wilson International Center for Scholars in Washington, D.C., and was appointed scientific authority for Quebec in the United States. Between 2013 and October 2016, she served as chief operating officer of the Montréal Science Centre.
On Oct. 2, she was installed as Canada's 29th governor general.
Prior to her afternoon visit to UNB, Ms. Payette was welcomed to New Brunswick by dignitaries, including Lieutenant Governor Jocelyne Roy Vienneau and Premier Brian Gallant.
She received military honours, including a 100-person guard of honour and a 21-gun salute before meeting with the premier and addressing members of the Legislative Assembly of New Brunswick.
After visiting UNB, she went on to Canadian Forces Base Gagetown for a number of events.
Media contact: Sonya Gilks
Photo: Governor General Julie Payette, left, talks with Kevin Englehart, director of UNB's Institute of Biomedical Engineering on a tour of the institute on Nov. 7, 2017. Credit: Cameron Fitch/Photo UNB