Renowned fish ecologist to speak at UNB
Author: UNB Newsroom
Posted on Oct 24, 2017
Category: UNB Fredericton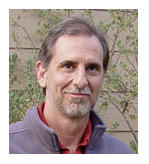 A prominent American ecologist who specializes in fish populations and community ecology will be delivering the Canadian Rivers Institute's H.B.N. Hynes Lectures at the University of New Brunswick this week.
Dr. Kirk Winemiller is regents professor in the department of wildlife and fisheries sciences at Texas A&M University. His research is focused on fish populations and community ecology, life history strategies, and food and web ecology with emphasis on rivers, streams and estuaries. Dr. Winemiller also studies evolutionary ecology, including adaptive radiations and convergent evolution in tropical fishes.
He was elected a Fellow of the American Association for the Advancement of Science in 2007, was awarded the Ecological Society of America's Mercer Award and was twice awarded the U.S. Fulbright.
On Thursday, Oct. 26 from 7 p.m. to 8 p.m. in room 146 at Bailey Hall on the university's Fredericton campus, Dr. Winemiller will present his public lecture, "The Weird, Wonderful World of Tropical Fishes and Current Threats to Their Survival." In it, he will explore the ecological diversity of tropical freshwater fishes and the idea that convergent evolution in form and function is widespread. He will also illustrate some of the major threats to tropical fishes, and discuss prospects for mitigating their impacts.
Dr. Winemiller will also deliver his science lecture, "Does Pulsing Hydrology Promote Productivity and Resilience of River Food Webs?" at both the UNB Fredericton and Saint John campuses. It will explore mechanisms that promote productivity and resilience of fluvial ecosystems, especially in the tropics.
The science lecture at the Saint John campus is on Oct. 26, room 232, Hazen Hall from 11:30 a.m. to 1 p.m and in Fredericton on Oct. 27, room 146, Bailey Hall, from 3 p.m. to 4 p.m.
"We are thrilled to have Dr. Winemiller deliver this year's Hynes Lecture," says Anne Levesque, director of the Canadian Rivers Institute. "It's an absolute pleasure to be hosting a guest so distinguished in his field."
Following the public lecture the evening of Oct. 26, the $1,000 H.B.N. Hynes Scholarship and the $4,000 Bud and Peggy Bird Scholarship will be awarded to two Canadian Rivers Institute graduate students.
The H.B.N. Hynes Lecture Series
Dr. H.B. Noel Hynes is the world's most renowned freshwater biologist and a distinguished emeritus professor at the University of Waterloo. Referred to as "the father of running water ecology," he has published extensively, including his definitive textbook on river ecology, The Ecology of Running Waters.
In 2002, the Canadian Rivers Institute initiated its annual lecture series by conferring of an honorary doctoral degree to Dr. Hynes.
Media contact: Hilary Creamer Robinson