Canadian Institute for Cybersecurity at UNB goes global in cyber defence effort
Author: UNB Newsroom
Posted on Oct 10, 2017
Category: UNB Fredericton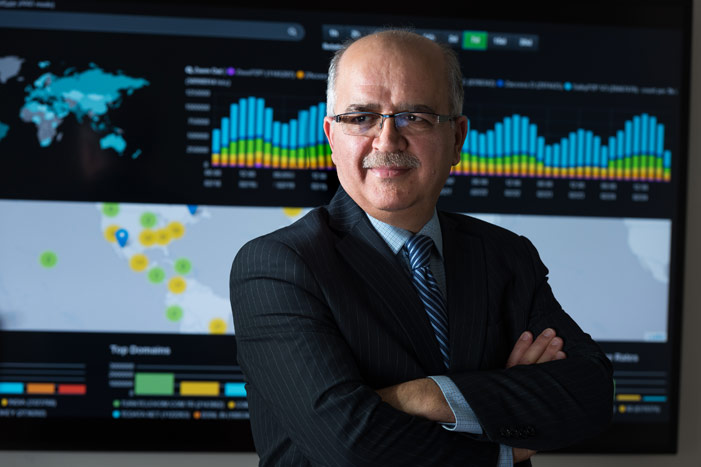 The Canadian Institute for Cybersecurity at the University of New Brunswick is joining forces with a global network dedicated to defending against highly disruptive cyberattacks.
The institute is one of 14 leading organizations from around the world invited to form the new Global Ecosystem of Ecosystems Partnership in Innovation and Cybersecurity, or Global EPIC, which holds its inaugural meeting today in Poland in conjunction with the European Cybersecurity Forum – CYBERSEC 2017.
"Every day in the headlines are sober reminders that cyber attacks are increasingly disrupting lives and societies on a massive scale. Given that cybercrime is a global phenomenon, it is important to partner with organizations around the world to better combat this threat," says Dr. Ali Ghorbani, director of the Canadian Institute for Cybersecurity, who is attending today's meeting in Krakow.
Global EPIC will, as part of its mission, conduct research to enhance cybersecurity for high-impact targets of cyberattacks.
"Power grids and financial institutions are examples of high-impact targets – if they are hacked, there is potential to cause mass disruption to society," says Dr. Ghorbani, who is also Canada Research Chair in Cybersecurity and a professor of computer science at UNB.
Across the globe, cybersecurity ecosystems bring together academia, industry and government to respond to cybersecurity threats and enable economic development opportunities.
Regional ecosystems of Global EPIC include academic institutions, cybersecurity research institutions and industry leaders. The global network is connecting cybersecurity organizations in Israel, the Netherlands, Spain, the United Kingdom, Italy, Poland, Belgium, Costa Rica, the United States and Canada.
Global EPIC gives the Canadian Institute for Cybersecurity at UNB an international platform for its research, connects it to other world-leading cyber research and gives it access to global talent through partner exchanges.
"This is a tremendous step forward for the Canadian Institute for Cybersecurity – a testament to the world-class talent and research conducted there," says Dr. Eddy Campbell, president of the University of New Brunswick.
The Canadian Institute for Cybersecurity, launched last January and housed at UNB's Fredericton campus, is a comprehensive multidisciplinary training, research and development and entrepreneurial institute which operates in close collaboration with researchers in the social sciences, business, computer science, engineering, law, and science, as well as at other national and international research centres.
Joining the Canadian Institute for Cybersecurity in Global EPIC are: Cyberspark (Be'er-Sheva, Israel), the Centre for Secure Information Technologies - CSIT (Belfast, U.K.), The Hague Security Delta (The Hague, Netherlands), Global Cybersecurity Resource at Carleton University (Ottawa, Canada), CyberTech Network (San Diego, U.S.), The Kosciuszko Institute (Krakow, Poland), Politecnico di Torino (Turin, Italy), La Fundación INCYDE (Madrid, Spain), Cyber Wales (Cardiff, U.K.), bwtech@UMBC (Baltimore, U.S.), Procomer (Heredia, Costa Rica), Innovation Boulevard (Surrey, Canada) and LSEC (Heverlee, Belgium).
The 14 ecosystems have largely developed independently, driven by local and national objectives. Their leaders are aware that the challenges of cybersecurity require global paradigm-shifting platforms and cooperation that reflect regional and local imperatives.
"The formal launch of Global EPIC represents an escalation of global cybersecurity innovation ecosystem collaboration to tackle head on the challenges citizens, businesses and governments face in supporting the shift to an interconnected digital economy," says Dr. Godfrey Gaston, director of the Centre for Secure Information Technologies in Belfast and another member of EPIC. "It is a win-win for organizations and regions involved."
Media contact: David Stonehouse
Photo: Dr. Ali Ghorbani, Director of the Canadian Institute for Cybersecurity. (Photo credit: Joy Cummings / UNB Photo).