UNB hosts internationally renowned author with lecture entitled Is Donald Trump Good for Climate Change
Author: Communications
Posted on Sep 29, 2017
Category: UNB Fredericton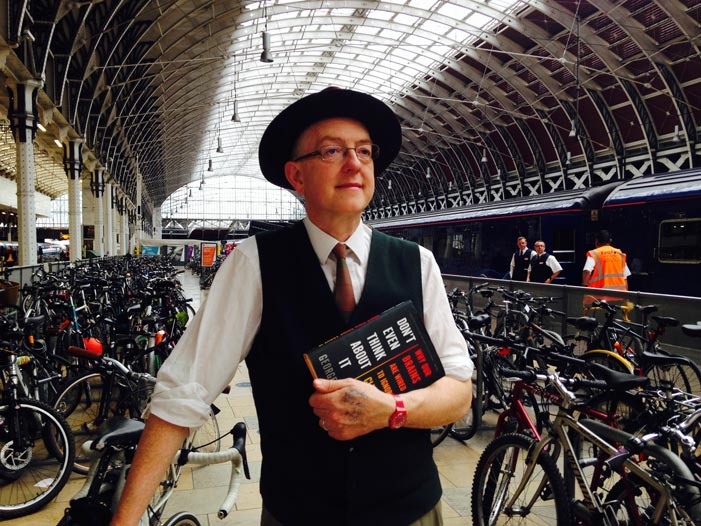 The British author behind the book
Don't Even Think About It: Why Our Brains are Wired to Ignore Climate Change
will be in Fredericton next week to give a public lecture entitled "Is Donald Trump Good for Climate Change?" George Marshall, an internationally respected researcher on climate change communications and co-founder of the U.K.-based
Climate Outreach
, will deliver a one-hour lecture at the University of New Brunswick's Tilley Hall auditorium on Oct. 3 at 7 p.m. "Mr. Marshall will explore the dynamics behind climate denialism and the current situation in the United States under the presidency of Donald Trump, who has called climate change a hoax and announced the U.S. withdrawal from the UN Paris climate agreement," says Louise Comeau, director of the Environment and Sustainable Development Research Centre at UNB, who organized the lecture. "At the same time, he will examine how American actions have caused a surge in climate activism and how to talk to people who disagree that climate change is altering our planet," Dr. Comeau says. The lecture, free and open to the public, will be followed by a 30-minute question-and-answer session. Mr. Marshall has 25 years of experience working across the environmental spectrum – from local community groups to senior positions in Greenpeace and the Rainforest Foundation to consultancy work for governments and businesses. He writes widely on climate change issues including articles for The New Statesman, The Guardian, New Scientist and The Ecologist.
Don't Even Think About It: Why Our Brains are Wired to Ignore Climate Change
, published in 2014, explores the psychology of climate change. Mr. Marshall's search for the answers brings him face to face with Nobel Prize-winning psychologists and the activists of the Texas Tea Party; the world's leading climate scientists and the people who denounce them; liberal environmentalists and conservative evangelicals. In 2016, a blueprint for Climate Outreach's theory of change,
Talking Climate: From Research To Practice in Public Engagement
, was published by Mr. Marshall's colleagues, Dr. Adam Corner and Jamie Clarke. Aimed at academics, educators, campaigners, communicators and practitioners, the book offers five core principles for public engagement that can propel climate change discourse out of the margins and into mainstream. Mr. Marshall is currently leading the
Global Narratives project
in India. The Global Narratives project is a pioneering initiative to test and develop climate change messaging and preconceptions. It is the first qualitative study in India that tests and compares specific discourse around climate change.
Media contact:
David Stonehouse