Poet Sheree Fitch and retired UNB professor Anne Hunt create collection of beloved children s poems
Author: Communications
Posted on Sep 18, 2017
Category: UNB Fredericton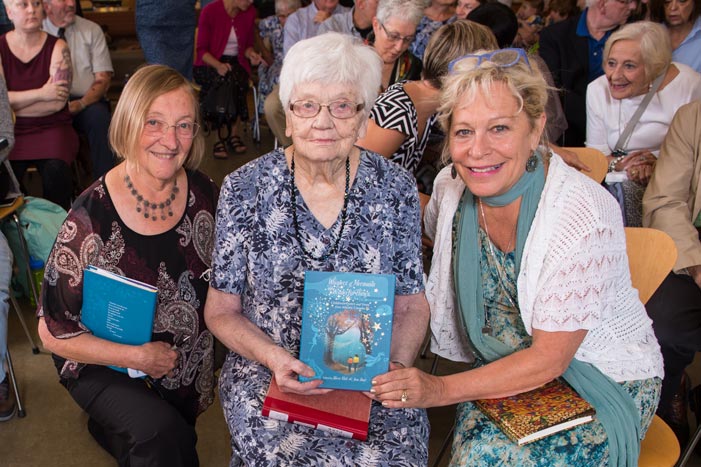 A new collection of Atlantic Canadian poetry for children is being launched at the Harriet Irving Library on the University of New Brunswick's Fredericton campus this Thursday, Sept. 21, at 4 p.m.
Whispers of Mermaids and Wonderful Things
– edited by beloved children's poet Sheree Fitch and long-time educator Anne Hunt – promises to take children of all ages on a journey through whimsy, wonder and wordplay. The book is the only anthology of its kind, bringing together poems from the 1800s to the present and showcasing poets from all four of Canada's Atlantic provinces. "Creating a collection of this kind has been a dream for decades," says Ms. Fitch. She first got the idea for the collection and started squirrelling away favourite poems while she was a student in Fredericton in the 1980s. At that time, the tradition of children's poetry in Canada was quite new and very few poets from Atlantic Canada were having poems for children published. Retired UNB professor in the faculty of education, Anne Hunt, joined Ms. Fitch in her excited pursuit about seven years ago. The two of them began their work through the Eileen Wallace Children's Literature Research Fellowship at UNB before branching out to other libraries in their quest for the region's children's poetry tradition. They also brought in many established and emerging voices to create a work that is both fresh and timeless. The book launch will take place in the main foyer of Harriet Irving Library. Ms. Fitch and Dr. Hunt will both be in attendance to talk about the work and read from its pages. The library will also be showcasing a display of materials related to the creation of the anthology.
Media contact:
Jeremy Nason
Photo:
Anne Hunt, Eileen Wallace and Sheree Fitch pose with a copy of Whispers of Mermaids and Wonderful Things at UNB's Harriet Irving Library on Sept. 21, 2017. (Cameron Fitch / Photo UNB)